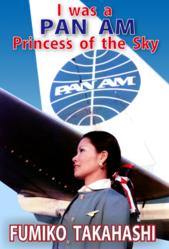 After all, Japan invaded America with Sony products.
Los Angeles, CA (PRWEB) November 07, 2012
The name 'Black Ship' was given to Admiral Perry's vessel that arrived in Japan in 1853. 'Black' refers to the ship's color and the black smoke coming from its coal burning power. It became the symbol of the end of Japan's isolation from world trade, as Amazon is now doing with its Kindle.
This week, angered Japanese publishers are calling Amazon's Kindle invasion 'the black ship of publishing'. To start off its invasion, Amazon has included a Japan born and raised Pan Am stewardess, Fumiko Takahashi, in the invasion against her fellow countrymen's publishing empire.
Ms. Takahashi has had 12 of her books published by the traditional Japanese system, one of her publishers being the largest in Japan; Kodansha Publishing. However, 'I was a Pan Am Princess of the Sky' will not be given to Japanese publishers, even in its Japanese language translation.
When asked if she considers herself disloyal to her countryman's publishers, Ms. Takahashi said, "If business people use fair tactics to promote their products, then I see no reason not to use Amazon Kindle for my book. After all, Japan invaded America several times with Sony products, now it's Amazon's turn, that's all. I'm sure Japan will stay up with the competition with their 'Kobo' e-reader."
Amazon said that it will sell a Japanese-acceptable version of Kindle next month. Kindle's 'Paperwhite' e-book reader became available for pre-order on Wednesday. It will start shipping on November 19. A Japanese-acceptalbe Kindle app will be available for computers, tablets and smartphones from Thursday.
Fumiko Takahashi's 'I was a Pan Am Princess of the Sky' is also available from USA Amazon as well as iTunes and Barns &Noble.