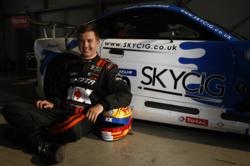 London, UK (PRWEB UK) 5 November 2012
The High Wycombe-based speed demon tallied six victories, 17 podiums, four pole positions and six fastest laps en route to third spot in the Ginetta GT Supercup standings in 2012, and he was a contender for the crown right the way down to the season finale.
There were several standout highlights, most notably the six triumphs registered by the 19-year-old British Racing Drivers' Club Rising Star, MSA Academy member and KENNETT brand ambassador. The first of them came under sustained pressure at Donington Park, kick-starting his bid for the laurels, whilst there was another at Croft and peerless double-tops at Oulton Park – in front of new sponsor SKYCIG – and Rockingham. He rounded out the season with a rostrum finish in the torrential rain at Brands Hatch.
"It's been a mixed year, with a number of highs-and-lows," he mused. "We had four DNFs that cost us dear, and there's a part of me that can't help but think, 'what if..?' We lost 35 points at Snetterton, for example, when my engine blew up as I had a 1.5-second lead.
"On the positive side, though, we got quicker and quicker as the year progressed, and as we grew in confidence as a team, we consistently managed to extract more pace from the car; that was in large part thanks to the sterling efforts of all the boys at JHR Developments, who I truly can't thank enough.
"I also need to thank SKYCIG and Hansford Sensors for their incredible support. I regard Chris Hansford more as a friend now than anything else; he has a huge passion for motorsport, and enjoys nothing better than attending race meetings and really getting stuck in."
Going back to Oulton Park, Ingram's dominant double victory could not in hindsight have come at a better time, as it was achieved just as energy drinks company KX was scouting out emerging talent for its new and exciting KX Akademy. With the spotlight shining down bright, the former Ginetta G50 Champion, Ginetta Junior Champion and British Karting Champion responded magnificently – and he was duly selected as one of only two drivers to be inducted onto the prestigious programme.
In every area, he affirms, the association has been invaluable, from no longer needing to fret over whether he can afford to make the next meeting to having the opportunity to tap into the expertise of the scheme's mentor, two-time British Touring Car Champion Jason Plato.
"Having KX's support has been a tremendous boost," Ingram acknowledges, "and I owe everybody there a massive 'thank you' for believing in me. Financially, we've never been 100 per cent sure we would be able to finish the season before, so it was a huge weight off our minds in that respect. To not have to constantly worry about funding for the first time and being liberated to concentrate solely on the racing has been amazing – it felt like a reward for all the hard work we've put in over the years.
"I've been able to take more chances and drive the way I want to drive – and with a decent budget behind us at last, I think we showed what we can do. I really hope we can continue the partnership next year; I've benefitted so much from being a member of the KX Akademy, but there's still so much more I can learn.
"The training sessions on dealing with the media, sponsorship and finance and how best to market yourself have all been extremely valuable – there wasn't a single one in which I didn't acquire something useful – and having Jason as a mentor is something money can't buy. He has been there before and has the T-shirt to prove it, and there's no end of knowledge and advice that I've been able to glean from his experience."
"It has been a pleasure to work with Tom this year," adds Plato, the respect palpably mutual. "He is clearly a very gifted young racing driver who appears to have a bright future within the sport – I just hope he doesn't become too good, too quickly, or else he'll have me out of a job!
"In all seriousness, though, he's a very hard-working, intelligent and pleasant lad who listens and takes everything in, and his success over the past three seasons speaks for itself. I actually see quite a bit of myself in Tom from when I was his age, and wherever he races next year, I have no doubt he will acquit himself admirably."