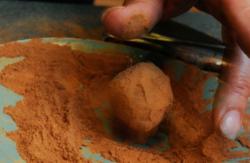 The first bite made me think of sitting in front of a warm cozy fire while snow fell outside. . .
(PRWEB) November 08, 2012
The year-end holiday season – whether it involves Christmas, Hanukkah, Kwanzaa or some other treasured family celebration – evokes nostalgia in many of us, says Ecole Chocolat graduate and master chocolatier Elaine Hsieh of EH Chocolatier in Somerville, MA. Hsieh developed the holiday chocolate truffle recipe that follows.
Hand-made gifts are always appreciated and appropriate, particularly when they involve something good to eat, Hsieh says, adding that the smell and taste of certain foods does become inseparable from warm childhood memories of the holidays.
"Growing up in a Chinese household during the holidays brings back memories for me of flavors of duck, noodles and red bean," says Hsieh, who was inspired to use a selection of spice flavors she tasted at a small-town patisserie in France where the specialty was pain d'epice – spice bread. "The first bite made me think of sitting in front of a warm cozy fire while snow fell outside. It was perfect for the winter holidays," she says about replicating the flavors in her Christmas truffle recipe, which will become part of the 2012 EH Chef's Choice Box of chocolate goodies this season.
Other holiday specials EH will offer include include favorites like marbled peppermint bark, caramel d'epice, mint meltaways along with new products such as Toffee Almond, Peanut Butter Crunch Bar, Wise Guy, Rosemary Caramel and Hazelnut Crunch Cup.
"Gingerbread men were always a favorite of mine during the holidays while I was growing up, but it was Elaine who brought the idea of putting these flavors into some of our holiday confections," says Hsieh's business partner Catharine Sweeney. "And what a wonderful idea it was. One taste and you're on your way down memory lane."
Chocolate, too, is another sweet memory prod, says Sweeney. "I'd always looked forward to chocolate Santas . . . just letting the chocolate melt slowly in your mouth – Yum!" Hsieh, meanwhile, says yes, at Christmas she looked forward to "colorful foil balls and bells of compound chocolate" as a kid, but that "the chocolate I enjoy now is definitely a taste I developed as I've gotten older."
The two women are both graduates of he Cambridge School of Culinary Arts and have been making fine chocolates at EH Chocolatier since 2011. Their recipe for a special holiday truffle isn't difficult to do, but your best bet for sure success is to use the highest quality chocolate you can find. And if you're planning to make them ahead of time and want to keep them as fresh as possible, place them in an airtight container, wrap very well and freeze for up to two months. When ready to serve or prepare as a gift, take truffles out of the freezer and let sit at room temperature for several hours before unwrapping.
Truffle D'epice
Yield: Approximately 50 pieces
Ganache Ingredients
1 ¾ tsps. ground ginger
1 tsp. vanilla extract
1 ¼ tsps. cinnamon
¾ tsp. allspice
6 oz. heavy cream
3 oz. corn syrup
10.5 oz dark chocolate (around 65%), chopped into small pieces
2.5 oz unsalted butter, softened to room temperature (75°F)
Method:
1. Add cream, corn syrup, ground ginger, vanilla extract, cinnamon, and allspice in a small saucepan and bring to a boil over medium heat. 
2. Take off the heat and cover with lid to infuse for 15 minutes.
3. Remove the lid and bring cream mixture back to a boil.
4. Wait until bubbles disappear and then pour over chocolate. Shake bowl a little to settle the chocolate so it's covered with the cream.  Wait a couple of minutes.
5. Stir the melted chocolate starting in the middle of the bowl with a spatula.  Continue mixing until the ganache comes together, looks and feels a little thicker and looks like chocolate pudding.
6. If the ganache appears to be separating and not coming together (appears oily, slides around the bowl), check the temperature and bring to 97-98 F.  Then use an immersion blender to mix, keeping the blade below the surface to avoid incorporating air.
7. Add the softened butter and incorporate until the butter is completely gone.
8. Set bowl aside and cover with plastic wrap.  Wait until at room temperature and firm.
9. Use either a very small ice cream scoop, melon baller, or two small spoons and scoop out balls of ganache onto a jelly pan lined with parchment or silpat. 
10. Allow to firm up further in fridge for at least 2 hours.
11. Dust palms with cocoa powder, roll the scoops into balls, and then coat them with cocoa powder or finely chopped chocolate.
12. Can be kept in a plastic ziplock bag with enough cocoa powder to keep them from sticking to each other. Keep refrigerated. Take out 30 minutes before serving. They will keep up to two weeks.
About Ecole Chocolat
Founded in 2003, Ecole Chocolat Professional School of Chocolate Arts offers a portfolio of programs for chocolate making – mastering techniques while gaining the expertise and business knowledge needed to become a professional chocolatier or chocolate maker. Founder Pam Williams received the 2011 Fine Chocolate Industry Association's Recognition of Excellence in Service to the Industry. See our website: http://www.ecolechocolat.com.