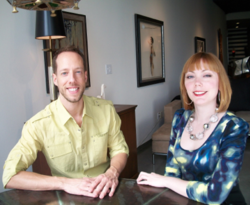 "Opening a gallery has been a lifelong dream of mine," said Alan Simmons, owner and president, Alan Simmons Art + Design. "After three years of designing and planning, the dream has come to fruition."
Dallas, TX (PRWEB) November 06, 2012
Alan Simmons Art + Design, a leading art consultant and dealer, announces the opening of its gallery in the Dallas Design District. Boasting commercial and fine art items, the gallery offers paintings, sculpture, ceramics, glass, and prints, among others. A grand opening celebration will be held Saturday, December 1, 2012, 5:00-9:00 PM at 1415 Slocum Street, Suite 105, Dallas, TX 75202. The gallery will also be open that day from 11:00 AM - 5:00 PM.
The Alan Simmons Art + Design gallery under the guidance of Alan Simmons, president, and Lindsey Carneal, director, features 50+ artists from local, regional, and international locales. Noted artists include:
Lisa Cardenas: Dallas
Connie Chantilis: Dallas
David McGlothlin: Dallas
Gregory Miller: Dallas
Lisa Nersesova: Dallas
Kevin Paige: Dallas
Heriberto Quinones: Dallas
Craig Alan: Atlanta, GA
Bruce McQuiston: Miami, Florida
David Thai: Toronto, Canada
A sampling of works by the above artists and Alan Simmons' projects may be found at http://www.alansimmons.net; https://www.facebook.com/AlanSimmonsArtDesign.