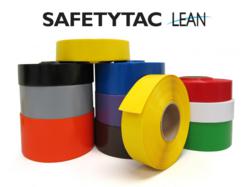 "We are very pleased with the SafetyTac Lean floor tape. We have used it in our backroom to mark off zip code areas for our mail carts. We have had no problem with any peeling or cracking."
Lake Oswego, OR (PRWEB) November 09, 2012
Safetytac.com offers an industrial heavy duty floor tape for those applications that require extra tough markings for high traffic and harsh work environments. Safetytac.com is now offering as a compliment to their line of industrial floor tape, the SafetyTac Lean floor tape that is 30 percent thinner than the standard SafetyTac without sacrificing durability. The SafetyTac Edge is another addition to SafetyTac line of floor tape that was designed to resist wheel pivoting from forklifts and other industrial traffic. The SafteyTac Lean and SafetyTac Edge were designed specifically for some customers that do not need the most industrial tape but require a medium duty tape that holds very well in most light to medium duty areas, as well as some heavier traffic situations.
The SafetyTac Lean floor tape is a great solution for marking aisles in an office scenario. The tape can be used to mark off stairway entrances and steps and thereby reducing the number of unnecessary accidents. Pathways can be marked off keeping workers and visitors within a safety zone and away from possible hazardous areas. The lean profile of SafetyTac Lean tape allows for carts and equipment with small wheels to move across the lines with ease and lowers potential for blunt impact which could compromise the adhesive bond. Post office facilities could benefit from using the lean tape to mark off sections in the mail room to designate different work spaces. Post office workers can move mail carts from one area to the next with ease. Marking off aisles and pathways in Post Office lobbies is another great use for the lean tape. A post office clerk commented, "We are very pleased with the SafetyTac Lean floor tape. We have used it in our backroom to mark off zip code areas for our mail carts. We have had no problem with any peeling or cracking."
Please visit http://www.safetytac.com/safetytac/ or call toll-free (888)246-6770 to receive more information about SafetyTac Tape or other safety supplies to meet your needs.