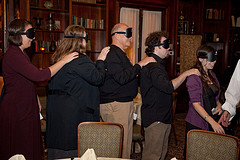 Mainly people want to try it because it is a unique culinary experience. Food tastes very different without visual cues to pair with it.
Boston, MA (PRWEB) November 07, 2012
Join us for the "first time" ever Dining in the Dark at The College Club of Boston, 44 Commonwealth Avenue, Boston, MA. The concept of eating in complete pitch-black originated with Jorge Spielmann, a blind clergyman from Zurich. When guests ate at his home, some would wear blindfolds during their meal to show solidarity with their host and to better understand his world. What his guests, and others around the world have discovered, is that blindfolds heightened their taste of sense and smell, making their dining experience more enjoyable. Founded by David Goldstein, the creator of Boston Chocolate Tours, Mystery Café, and the award-winning TeamBonding, Dining in the Dark provides New England with its first taste of this new dining concept.
The College Club of Boston is the perfect venue for this event. The College Club was built as a High Victorian townhouse for a prosperous family around 1860. The floor plan is classic 19th century. Dinner is prepared by Executive Chef Jesse Wolkiewicz.
Tickets for the full course dinner is $75pp and can be purchased by phone at 781-780-3858 or by visiting the Dining in the Dark website.