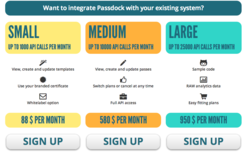 Lugano (PRWEB) November 07, 2012
Anyone can create and distribute Passbook passes at no cost using Passdock.
The Passdock pricing plan, which has just been released, provides a unique option that no platform has provided to date. This is not a one month test period or a free trial of fifty passes.
The Passdock service enables anyone to create an unlimited number of passes (complete with the logo of their own company, business or event) and new templates without paying a dime. Just log on to the site passdock.com and start using Passdock tools.
The benefits for small businesses or the self-employed are huge, because it allows them to enjoy fully the benefits of marketing that the Passbook application brings to commercial interactions via mobile phones.
Company system developers can integrate the Passdock API into their database system or their proprietary application using the convenient business plans provided by Passdock.
In addition, the Passdock platform is constantly updated.
Here is news of the latest developments:

implementation of the strip in event tickets;
simplified use of api.passdock.com;
improved real-time preview;
real-time errors displayed when creating a pass in the "advanced" modality;
improvement of several functions (date and time, currency, text alignment, etc.);
improvement of the management of owners' certificates.
Along with iOS devices, passes can be read and updated on Android too. That's because of the integration with the PassWallet application, that let users have every feature of Passbook Ecosystem.
The payment plans offered by Passdock differ depending on the number of API calls made: up to one thousand (Small option), from one thousand to ten thousand (Medium), and from ten thousand to twenty-five thousand (Large). The more calls required, the less paied.
Using the Small option, for example, for only $88 per month, it's possible to send up to a thousand requests to the Passdock API.
Integrating Passbook functionality into applications or personal databases and gathering information at the capillary level for each Passbook campaign is now simple and cheap.
THE EXTRA THRESHOLD
If the company intends to use the Passdock API over and above the threshold that has already been agreed in its plans, it's not a problem. The Passdock solution is to maintain the plan and add the cost of each pass that's created below the threshold, which means significant savings that aren't provided by any other Passbook broker in the market.
It's with this type of flexible and highly customisable offer that Passdock is being proposed as a reference for all those who are looking to Passbook to enable them not only to start treading new marketing paths, but also to propose innovative and high added value solutions to their customers.