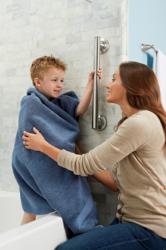 "Our goal is to make every bath a safe bath…which is why our products are stylish and add meaningful functionality to everyday lives," said Laurie Birko, Moen Home Care brand manager.
North Olmsted, OH (PRWEB) November 08, 2012
With the hustle and bustle of the holiday season, add a few more items to holiday shopping lists -- bath safety products. Why? To ensure that money isn't unnecessarily lost from Health Flexible-Spending Accounts (FSA).
An FSA is an ideal way for consumers to save significantly each year. This tax-advantaged account allows employees to set aside a portion of earnings to pay for qualified health expenses. Money is simply deducted from the employee's pay into the FSA account and is not subjected to payroll taxes.
However, these accounts have one significant disadvantage – any funds that are not used by the end of the plan year are lost to the employee. Thus, employees must "use it, or lose it." And, according to the Employee Benefits Research Institute, on average, employees that allocate more than $1,100 annually have an average balance of $100 left in the accounts at the end of the plan year that they lose.
Planning potential health needs is the key to winning with these accounts, but what happens when there is an excess at the end of the year? Luckily, bath safety items are approved expenses by most plans – and an ideal way to use remaining funds.
How to "Use It… Not Lose It"
According to IRS Publication 502, "you can include in medical expenses amounts you pay for special equipment installed in a home, or for improvements, if their main purpose is medical care for you, your spouse, or your dependent."
The perfect examples of potentially qualifying products are bath safety items, such as grab bars, hand grips and tub grips.* These products may be purchased from home improvement stores and select websites and, with proper documentation, may be eligible for reimbursement under your FSA account.
Top Bath Safety Items
Luckily, updating homes with safety products can be simple and attractive. Moen® Home Care® brand, for instance, offers a variety of products, such as Hand Grips, Balance Assist Bars, Tub Grips and Designer Grab Bars to update your home with needed safety products and potentially utilize those last-minute FSA dollars.* Some of the newest offerings include Designer Grab Bars with Accessories, which are available at select Lowe's and through online partners for approximately $60. This product line includes a grab bar with a paper holder (to assist getting on and off the toilet), a towel bar (to hold towels while assisting getting into and out of the shower or tub) and a straight shelf or corner shelf (to keep shower items handy and keep a firm grip in the shower). Plus, Moen's SecureMount™ Anchors will help you to install these products safely and anywhere on the wall without the need for studs, within minutes.
"Our goal is to make every bath a safe bath…and we know that the key to convincing homeowners to install these needed safety products is to ensure they look stylish and add meaningful functionality to their everyday lives," said Laurie Birko, Moen Home Care brand manager. "In fact, our Grab Bars with Accessories were named among This Old House Magazine's Top 100 Best New Home Products in 2011."
For more information about products from Moen Home Care that will help utilize your FSA dollars and create a safe home environment, visit http://www.moen.com/homecare.
*For complete details on FSAs and the approval process for qualifying purchases, check with the IRS or your legal, health benefits or tax advisor.
About Moen
As the #1 faucet brand in North America, Moen offers a diverse selection of thoughtfully designed kitchen and bath faucets, showerheads, accessories, bath safety products and kitchen sinks for residential and commercial applications – each delivering the best possible combination of meaningful innovation, useful features and lasting value.
Moen has worked diligently to support, promote and advance sustainability within the organization and the plumbing industry. The company has been recognized with the 2011 EPA WaterSense® Excellence Award, as well as the 2010 EPA WaterSense Manufacturer Partner of the Year Award, for its work to protect the future of our nation's water supply through the introduction and ongoing support of water-efficient products, programs and practices, while keeping consumers' needs top-of-mind.
Moen is part of Fortune Brands Home & Security, Inc. (NYSE: FBHS), which creates products and services that help fulfill the dreams of homeowners and help people feel more secure. The company is a leader in the home and security industries and features well-known and trusted brands like Moen® faucets, Master Lock®, MasterBrand Cabinets™, Therma-Tru® entryway systems and Simonton Windows®. For more information, please visit http://www.fbhs.com.
WaterSense® is a registered trademark of U.S. Environmental Protection Agency (EPA)
Contact:
Kristi Stolarski or Alissa Kiktavy
Falls Communications
(216) 696-0229
kstolarski(at)fallscommunications(dot)com or akiktavy(at)fallscommunications(dot)com