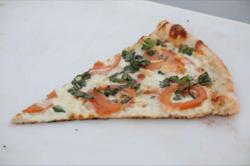 This is a very exciting yet daunting election, and we all need to exercise our right to vote!
Carlsbad, CA (PRWEB) November 06, 2012
Tired of the past four years and hoping for change, small business owner Joshua Martinez wants to show his support in changing the direction of America. Independently owned since 2007, Lorenzo's Pizzeria has been a neighborhood staple for local businesses. "Being the owner of a small shop, I see first-hand how the economy and this administration affect the everyday individual." said Martinez.
Aiming to spark a belief in America and a growth in its economy again, Martinez plans to hand out free slices of Pizza on November 7th. "If Romney wins this crucial election, I want to support a change of direction from the last four years by giving back to those hard-working Americans" he said. Regardless of who wins the race, Martinez added that those patrons who come in wearing an "I voted" sticker will get a free order of garlic knots. "This is a very exciting yet daunting election, and we all need to exercise our right to vote," says Martinez "It's very clear what this country needs in order to become great again. Mr. Romney is great for America just as small business is the backbone of the American economy. By that token, a slice of pizza is a great way to celebrate! See you at the polls!"
Lorenzo's Pizza is located at 5812 Van Allen Way #130, Carlsbad, CA, 92008 and is open Monday through Friday from 10 AM until 7 PM and 4-7 PM on Saturday. For more information contact Darius A. at pr(at)PlethoraMediaGroup(dot)com or call 760-579-4602
###
Plethora Media Group is a full-service creative, media marketing communications agency specializing in custom branding and full-service media management integration. With clients world-wide, and a commitment to expanding your branding, Plethora Media Group brings Madison Ave, to Main St.
Lorenzo's Pizza is one of San Diego's hidden gem's for a slice of pizza. Established in 2007, Lorenzo's features pizza as well as zesty garlic knots, salads and scrumptious wings. For more information visitLorenzosPizzaCarlsbad.com.