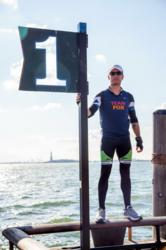 "At the time I was diagnosed with Parkinson's four years ago, I vowed to spend the rest of my days raising money and awareness to help find a cure for Parkinson's."
New York/London (PRWEB) November 06, 2012
Parkinson's sufferer and one of the UK's leading amateur super-athletes, Alex Flynn, recently returned from an epic 3,500 mile ultra-challenge from West to East USA in his quest to raise £1 Million Sterling (approx US$1.5 Million) in support of Parkinson's research around the world.
Just one month post-US trip, Alex is now taking on one of the world's greatest adventurers, namely Phileas Fogg and his 'Around The World in 80 Days'. Alex is hoping to run around the world in half the time (or thereabouts), with a 40-day total 'sprint' from Athens to The UK to Shanghai and ending in Dubai: all between November 2012 and February 2013.
When asked about his '40 Days Around The World' Challenge, Alex commented:-
"Four years ago I was living the high life as a corporate lawyer when suddenly I was diagnosed with Parkinson's disease. At that time, I made a vow to spend the rest of my days raising money and awareness to help find a cure for Parkinson's. I have honoured my word and will continue to do so.
"My current quest is to cover a distance of 10MillionMetres. I have, to date, run, kayaked, climbed, walked and cycled over nine million metres, so I am almost there. But more donations are needed to realise my £1Million target. I am not advocating that every person in the world with Parkinson's should undertake the crazy feats I have signed up to. I am doing this to help each and every one of us suffering with this little understood disease: not just for now but for generations to come. There is a cure for Parkinson's and I am committed to 'keep moving' until it is found", he added.
The next four Ultra-Challenges Alex is signed up to include:-
The Athens Classic Marathon – 11th November 2012 – Five Days
http://www.athensclassicmarathon.gr/
The Piece of String Fun Run 2012 – 24th November 2012 - Unknown Number of Days!
http://www.centurionrunning.com/piece-of-string-fun-run
The Toray Shanghai International Marathon – 2nd December 2012 – 26 Days
http://www.shmarathon.com/en/home.php
The Standard Chartered Dubai Marathon 2013 – 25th January 2013 – One Day
http://www.dubaimarathon.org
Before the end of 2014, 10MillionMetres will have taken Alex more than 6,200 miles around the world, via a hardcore mix of running, cycling, swimming, walking, kayaking, climbing or, if necessary, crawling, should his Parkinson's render him with limited movement.
Highlights on Alex's travels so far include his recent 'first-of-a-kind' Trans-America Challenge: a 3,500 mile trip from West to East Coast USA over a period of 35 days; the 2010 Marathon des Sables, running more than 135 miles across the Bavarian Alps and, in 2011, traversing 1457 miles from London to Rome in 30 days, as well as numerous Marathons, Ironman and Olympic Triathlons.
Alex's story remains an incredible tale of human courage and determination. Alex's ideals, passions, goals and dreams are no different from anyone else's – able bodied or otherwise. He is just ever so slightly 'bionic', a brilliant public speaker for both corporate and consumer audiences and has one particular claim to fame: he met The Pope, in Rome.
We can all learn just a little something from Alex and people like him. Please support Alex in his life mission – make that difference to someone else's life. http://www.alexflynn.co.uk
-ends-
*Running schedule is subject to change.
Image credit courtesy of http://www.danielbyrnephoto.com