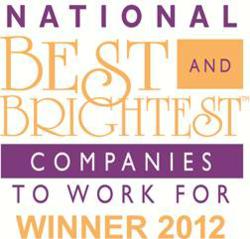 Ann Arbor, MI (PRWEB) November 06, 2012
"Pcubed is deeply honored to be named one of the national 'Best and Brightest' companies," said Dermot Brannock, General Manager of Pcubed's North America operations. "Our people are without a doubt our number one asset. Our client success is due to our exceptional people and the difference they make in producing outstanding client deliverables. Our commitment to our employees in terms of career development, training and advancement is one of our four core global pillars and at the forefront of our focus: Customer Advocacy, Differentiation, Employee Advocacy and Shareholder Value."
Pcubed is a global leader at helping its clients - including more than 50% of the Fortune 500 - deliver business transformation successfully. The company was one of more than a thousand entrants from across the US vying for a 2012 National Best and Brightest Companies to Work For™ title - only those with the highest quality HR practices and employee enrichment could be judged worthy of the winners list.
The winners were assessed by an independent research firm which reviewed a number of key measures. The categories include compensation, benefits and employee solutions, employee enrichment, engagement and retention, employee education and development, recruitment, selection and orientation, employee achievement and recognition, communication and shared vision, diversity and inclusion, work-life balance, community initiatives, and strategic company performance.
"The 2012 National Best and Brightest Companies to Work For™ program was established to honor companies that recognize employees as their greatest assets," said Leslie J. Gola, Director of Human Resources at Pcubed.
"Our consultants and staff are committed to providing successful and exceptional delivery to our clients—every time—and Pcubed is committed to providing exceptional experience and professional growth opportunities to our staff—every time.
"At Pcubed, we live by and demonstrate our core principles in everything we do: TRIPPLE – Teamwork, Responsive, Integrity, Practitioners, Passion, Learning and Empowered. As we continue to move our HR practices forward in meeting the needs of our staff, we're pleased that as testament to our current practices and culture, over 50% of our hires annually result from employee and business partner referrals."
With more than 10 years of experience conducting Best and Brightest Company competitions, the National Association for Business Resources (NABR) have identified numerous best HR practices and provided benchmarking for companies that continue to be leaders in employment standards. To see the winners list online please visit: http://www.101bestandbrightest.com/winners/2012/national
Since its inception in 1994, Pcubed has grown into a global leader helping more than 50% of the Fortune 500 deliver business transformation successfully. Pcubed brings its deep expertise in portfolio, program, and change management together in a consulting partnership with clients to pragmatically deliver initiatives successfully and build internal client capabilities. Success has been seen in clients like Ford Motor Company, Chevron, the Olympic Delivery Authority, and the UK Government. Complexity isn't simple to manage, Pcubed just makes it seem that way.
For more information or to request an interview, please contact Linda Lavine at linda(dot)lavine(at)pcubed(dot)com or call 646 652 7951 or 646 420 8631.