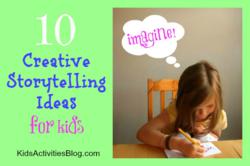 Make stories come to life by making characters literally jumping off the page according to the latest buzz on Kids Activities Blog.
Dallas, Texas (PRWEB) November 16, 2012
How to Tell a Story is the latest buzz on Kids Activities Blog this fall. This fun and educational November activities idea is great for the whole family including grandparents.
Storytelling is a wonderful activity for children stretching their imagination, developing language skills and helping them practice the rules of spelling and writing. Making tiny matchbox books, developing comics, or simply making pirate maps and instructions are some of the ways to get kids starting to write.
Another idea is to start a story with your family and grandparents by offering creative writing prompts and inviting family members to write their own versions of the story. For example use famous movie lines, such as the Force from Star Wars, to get the story started. Come and check out this and other story telling starter ideas currently featured on Kids Activities Blog.
When Stories Come to Life is another hot topic for November activities on Kids Activities Blog. Making stories alive by creating LEGO scenes, making characters literally jump off the pages, or making magical tree houses in the yard are among the many ideas helping kids to imagine their stories.
These and other story telling ideas is the latest buzz that has Moms blog in numbers on Kids Activities Blog this fall. Come check it out to get the little ones inspired this season.
About Kids Activities Blog
Kids Activities Blog is a website created by two moms (who collectively have 9 children), Rachel Miller and Holly Homer from June Cleaver Nirvana. It is their daily goal to inspire parents and teachers to play with kids. This interactive website publishes simple things to do with kids twice a day. Kids Activities Blog is a great tool for moms and teachers to find kid-friendly activities that create memories and sneak learning into the fun.