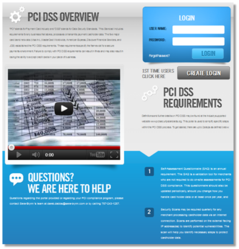 "For about the price of two large latte coffees a day, a small or medium business gets the same level of attention from a PCI audit authority that Fortune 500 companies pay hundreds of thousands of dollars a year for."
Chesapeake, Virginia (PRWEB) November 06, 2012
Sera-Brynn's Sentinel Express is an online checklist that any business can easily follow to successfully complete their mandatory PCI Self-Assessment Questionnaire, or "SAQ".
The Credit Card brands (Visa, MasterCard, Discover, American Express and JCB) require small and medium-sized businesses to self-certify their security infrastructure annually through a formal PCI SAQ. Unfortunately, the requirements can be cumbersome and, for some businesses, technically challenging.
Sentinel Express comes with one-on-one support from one of Sera-Brynn's PCI Qualified Security Assessors, or QSAs. QSAs are the industry recognized certified PCI-DSS experts.
"The costs of non-compliance can be devastating." said Darek Dabbs, Sera-Brynn's Senior Vice President for Information Security. "Last year, 96% of these businesses that were victims of cybercrime were found after the fact to be PCI non-compliant. That opens the door to government and industry fines, and even worse, litigation. Sometimes in the millions of dollars."
"So we developed an economical, easy to understand, and easy to follow way for small and medium-sized businesses to meet their annual self-assessment requirements," said Dabbs. "We call it the Sentinel Express."
The Sentinel Express provides a Sera-Brynn QSA who will assist merchants throughout the SAQ yearly lifecycle. This ensures that all merchants will be 100% compliant with the PCI-DSS and subsequent annual SAQ requirements. It also includes $50,000 of Cyber Breach insurance. The insurance provides coverage for all security event expenses that result from a Data Security event in which unauthorized access to cardholder information occurred.
"Our goal is to bring the same level of PCI and Cyber Security services to small and medium businesses that we provide to our large Fortune 500 clientele," said Chet Holland, Sera-Brynn's National Sales Director. "After all, they're targeted by cyber criminals more often, and that trend is increasing. It's only right that they have the same opportunities to protect their data, their reputation, and their business."
Most importantly, that peace of mind must be economical.
"For about the price of two large latte coffees a day, a small or medium business gets the same level of attention from a PCI audit authority that Fortune 500 companies pay hundreds of thousands of dollars a year for." said Mr. Holland. "It's a pretty good deal."