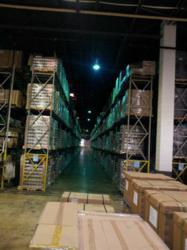 "Our continued recognition for maintaining safe, food-grade facilities translates to the highest standards of quality assurance for our food shipping clients,"
(PRWEB) November 07, 2012
AIB International recently inspected the Hermann Services Warehouse facility based in Dayton, NJ, which passed its strict standards to earn the AIB Recognition of Accomplishment certificate. AIB is the leading organization committed to protecting the safety of the global food supply chain.
"Our continued recognition for maintaining safe, food-grade facilities translates to the highest standards of quality assurance for our food shipping clients," said Chuck Capra, Executive Vice President Hermann Warehousing. "We are committed to doing everything we can to provide clean, safe, and superior warehousing and distribution solutions for clients in the food and beverage industry."
Comprehensive AIB Inspections evaluate the adequacy of:

Operational Methods and Personnel Practices
Maintenance for Food Safety
Cleaning Practices
Integrated Pest Management
Adequacy of Prerequisite and Food Safety Programs
"Hermann Services is well poised to serve as a turnkey supply chain partner for both U.S. and International food shippers," said Rich Clonan, Vice President Sales. "Our Dayton warehouse and transportation facility is located at the epicenter of the most populated region of the United States. New York City is just 45 miles to our north. Philadelphia is 53 miles south. And the most densely populated state in the nation sits in between. In fact, there are over 100,000,000 people located within a 100 mile radius of our facility."
A testament to Hermann's desirable location as a partner in the U.S. food distribution supply chain is the fact that the Costco also chose the area for its Distribution Center, which is located just down the street from the Hermann facility.
Hermann's rail-sided, temperature-controlled warehouse and distribution operations are equipped with extensive racking systems for turnkey lot rotation and inventory management. The warehouse deploys a state-of-the-art RF Warehouse Management System to ensure accuracy, traceability, and trackability.
Offering 1-stop shop food distribution solutions, Hermann Services Transportation and Logistics divisions are available for local and national food deliveries as well as drayage to and from the Ports of New York, New Jersey, Philadelphia, and Wilmington.
For more information about Hermann Services Warehousing and Transportation, contact Hermann Services at (877) 809-6070 or by email at sales(at)hermanntds.com