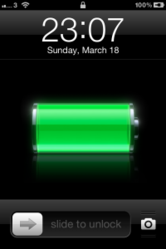 With most smartphones looking almost identical to each other, some are making their purchasing decision based on reliability and battery life.
New York, NY (PRWEB) November 08, 2012
A long battery life to meet the needs of the numerous capabilities found in today's smartphone is vital in order for its success as the top smartphone with the best battery life. Phones need more juice than ordinary cell phone batteries of the past. To power these new smartphones for a full day is ideal. When it comes to web browsing, playing back video and conversing one needs to get the most out of your battery. There are ways to maximize battery life by closing apps that drain power. But, lets see which smartphones have the longest battery life without the need to perform such adjustments.
No. 10 Sony Xperia Ion
The Sony Xperia Ion comes in at number 10 with 7 hours and 57 minutes of usage time. It almost has 6 hours of browse time (5 hrs 58 mins). It features an impressive 12.1 MP camera and 4.55-inch 1280 x 720 pixel 16 million color touch screen.
No. 9 Apple iPhone 5
The Apple iPhone 5 comes in at number 9. You get 8 hours of talk time with 225 hours standby time. It is powered to provide 8 hours 3G internet browsing, 8 hours 4G LTE internet browsing and 10 hours Wi-Fi. For entertainment the iPhone 5 lets you view video for 10 hours and 40 hours of music playback.
No. 8 Motorola Photon Q 4G LTE Sprint Phone
With a 6 minutes more than the Apple iPhone 5, the number 8 spot is held by the Motorola Photon Q (8 hrs 6 min.). This superphone runs on Android 4.0 and boasts a 4.3-inch ColorBoost touchscreen.
No. 7 Motorola Droid 4 Verizon Phone
The Motorola Droid 4 gives you 9 hours and 5 minutes. This Android 2.3.5 Gingerbread smartphone features a 4-inch qHD touch screen and dual cameras, 8MP rear camera and a 1.3MP web cam.
No. 6 Samsung Galaxy SIII
The Samsung Galaxy S3 keeps you talking for 9 hours and 24 minutes. It is available from Verizon, from Sprint, Samsung Galaxy S III Sprint Phone, from T-Mobile, Samsung Galaxy S III T-Mobile Phone and AT&T. The AT&T version is 30 minutes away from the 7 hour mark (6 hrs 28 minutes).
No. 5 Motorola Droid Razr HD
At number 5, the Motorola Droid Razr HD keeps you connected for 9 hours and 37 minutes. This upgrade to the Motorola Droid Razr features a Super AMOLED HD Display and dual cameras.
No. 4 HTC Evo 4G LTE Sprint Phone
The HTC Evo 4G LTE has a 2000 mAh battery that powers 10 hours and 13 minutes. It has a large 4.7-in IPS HD touch screen, 1.5GHz dual-core Snapdragon processor, and runs on Android 4.0 Ice Cream Sandwich. Read more on the HTC EVO 4G LTE Sprint Phone.
No. 3 Motorola Droid Razr Maxx HD Verizon Phone
With the Motorola DROID RAZR MAXX HD Verizon Phone you get 14 hours and 53 minutes from its 3300 mAh battery. It can last up to 32 hours. This Android Ice Cream Sandwich smartphone is loaded with capabilities and can be upgradeable to Android 4.1 Jelly Bean. It has a 4.7" HD Super AMOLED touchscreen, NFC connectivity, a front 1.3MP web cam and an 8MP rear camera / camcorder.
No. 2 Samsung Galaxy Note II T-Mobile Phone
The long battery life of the Samsung Galaxy Note II T-Mobile Phone gets you through most of your day with power for 15 hours and 288 hours of standby.
No. 1 Verizon Motorola Droid Razr Maxx
The Motorola Droid Razr Maxx 4G LTE Verizon Phone has the best battery life, its 3300 mAh Li Ion battery stays powered for 15 hours and 16 minutes. It provides eight hours and twenty five minutes of browsing time.
About 1800Mobiles.com: An E-commerce / Editorial web site covering the cell phone industry and cell phone accessories since 1998.
###