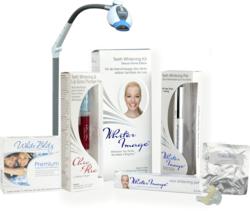 "Adding teeth whitening to your spa services gives your salon a reason to reach out to existing and inactive clients..."
Atlanta, GA (PRWEB) November 06, 2012
White Blitz, a manufacturer and supplier of teeth whitening products, is proud to announce that it is committed to providing spas and salons with the safest and most effective teeth whitening products in the industry. As we come to year end, White Blitz partners with spa clients to ensure that White Blitz products make their profits thrive. Spa teeth whitening is frequently overlooked by spa and salon owners, but providing customers with tooth whitening materials and services can boost profits and ensure year end goals are met.
When salon owners purchase White Blitz teeth whitening systems, they are purchasing more than just products; they also receive the complimentary services of a personal marketing consultant who provides them with strategies to attract new customers, retain old ones and increase sales. Salon owners are often so busy overseeing their businesses and employees, trying to meet their bottom line, that marketing products and services is often just a menu of services with a price list. White Blitz personal marketing consultants provide all the tools to show spa and salon staff how to promote tooth whitening sales which, in turn, increase revenue.
Keith Rodbell, co-founder of White Blitz, said, "Adding teeth whitening to your spa services gives your salon a reason to reach out to existing and inactive clients to tell them how to get white teeth. Our marketing consultants give your staff scripts, informative teeth whitening literature, and provide other marketing support. We can also help track your progress, and provide staff with sales incentives. Marketing our products is nonthreatening, and when customers see their whitened teeth, they want to retain a healthy, white smile."
Teeth whitening reviews of our Chic Flic Pen from independent testers at Dental Product Shopper, a respected reviewer of dental products, revealed that our tooth whitener had top results for effective whitening without promoting sensitivity. The same teeth bleaching gel is also in the White Blitz At-Home Teeth Whitening Kit and our ToGo Whitening Pen. Our formula contains the highest percentage of potassium nitrate permitted by the FDA, so it effectively minimizes sensitivity without sacrificing excellent whitening results. White Blitz is dedicated to providing painless teeth whitening that makes client's teeth whiter.
When customers see the results of using a teeth whitening pen like Chic Flic, a whitener and lip plumper, they will return to the spa to purchase additional pens when their applications run out. When they enter the spa, take the opportunity to upsell other services. Additionally, package whitening with other services, so customers can purchase overall beautification at a discount, thereby adding to the spa's bottom line.
White Blitz products can help turn tanning salons, nail salons, hair salons and other spas into profit centers that will delight their proprietors. Learn how White Blitz teeth whiteners can not only assist in satisfying customers, but also increase profits to meet year end goals. Visit the company website, and hear how other salon owners are benefiting from a partnership with White Blitz. For more information, email info(at)whiteblitz(dot)com or call 1-877-944-8330.
teeth whitening, teeth whitening products, spa teeth whitening, tooth whitening materials, teeth whitening systems, how to get white teeth, tooth whitening, teeth bleaching gel, painless teeth whitening, teeth whiter, teeth whitening pen, Chic Flic, lip plumper