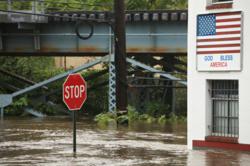 We are honored to be able to support the Red Cross and help our neighbors in the Northeast.
Alpharetta, Georgia (PRWEB) November 05, 2012
Christmas Lights Etc, one of the largest online U.S. retailers of Christmas Lights, Artificial Christmas Trees and Outdoor Christmas Decor, is supporting the American Red Cross to help disaster victims like those affected by recent Hurricane Sandy.
Christmas Lights Etc will assist the relief effort by donating 10% of retail purchases to the American Red Cross. All products sold on the website are eligible for the program, including Christmas lights, artificial Christmas trees and holiday decor. When shoppers enter the coupon code SANDY at checkout, 10% of the sale will be donated to the American Red Cross disaster relief, helping those impacted by disasters like Hurricane Sandy. "The magnitude of damage this storm caused is beyond comprehension. We can't imagine the hardship those impacted are dealing with." said Mike Streb, Director of Sales. Streb went on to comment how impressive the American Red Cross is in responding to these horrific situations, saying "they are always the first ones in and last ones out when a disaster hits".
These feelings are shared by the entire company, Co-Founder William Hale, "The Northeast region has always been a loyal customer base for us, now it's our turn to repay our friends in need. We are honored to be able to support the Red Cross and help our neighbors in the Northeast." The program will run from November 5th through November 11th, during the most active period for the online retailer in order to boost donation levels.
For more information about the American Red Cross and current disaster relief operations, please visit http://www.redcross.org.
About Christmas Lights Etc:
Chrismtas Lights Etc (http://www.christmaslightsetc.com) is a three time INC. 5000 company and leading online retailer of Artificial Christmas Trees, Prelit Garland, Christmas Lights and Decor; an ENERGY STAR partner and supplier of commercial Christmas Lights and giant Christmas Trees to organizations such as The Walt Disney Company, Sea World, Macy's, Old Navy, the University of Alabama and many others. The company's products have been featured
by the CBS Early Morning Show, CNN, Fox News, Smart Money Magazine, Wall Street Journal
and HGTV to name a few.
About the American Red Cross:
The American Red Cross shelters, feeds and provides emotional support to victims of disasters; supplies about 40 percent of the nation's blood; teaches skills that save lives; provides international humanitarian aid; and supports military members and their families. The Red Cross is a not-for-profit organization that depends on volunteers and the generosity of the American public to perform its mission. For more information, please visit redcross.org or join our blog at http://blog.redcross.org.
You can help people affected by disasters like Superstorm Sandy, as well as countless crises at home and around the world, by making a donation to support American Red Cross Disaster Relief. Your gift enables the Red Cross to prepare for and provide shelter, food, emotional support and other assistance in response to disasters. Visit http://www.redcross.org or call 1-800-RED CROSS. Contributions may also be sent to your local American Red Cross chapter or to the American Red Cross, P.O. Box 37243, Washington, DC 20013.
Media Contact Information
Hillary Zody
678-775-5016
media(at)christmaslightsetc.com