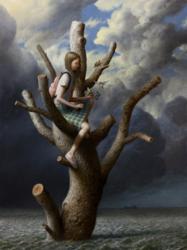 ...how fragile our seemingly solid civilization can be.
New York, New York (PRWEB) November 06, 2012
Lone figures are isolated by overflowing waters in this new show of paintings opening in Soho, New York. In "The Source" (the largest painting in the show at over 4 feet high,) a woman in an evening gown trudges through waist-deep waters out of a drainage culvert. She looks both lost and purposeful, emotions many New Yorkers can certainly identify with. In another large painting a girl sits in a solitary tree, surrounded by a flood of biblical scale. She is a hopeless cast-away, yet shares the last of her food with the birds, the only creatures immune to the earthbound disaster.
Wiesenfeld has said that the water in his work is a symbol of the dark depths of the unconscious that we are often afraid to look into. Perhaps in this topical group of works the waters also represent another fear that many people have been forced to confront in the past week, namely how fragile our seemingly solid civilization can be. The show opens November 10th at 4-6pm at Arcadia Gallery in New York, and runs from November 10th to 25th.
Arcadia Gallery
51 Greene Street
New York, NY 10013
212-965-1387
http://arcadiafinearts.com/
About the artist:
Aron Wiesenfeld has exhibited his paintings and drawings in many group shows internationally, and five one-person exhibitions including a retrospective at the Bakersfield Museum of Art. His work had been featured in The Huffington Post, Oxford American Magazine, New American Paintings, American Art Collector magazine, Hi Fructose Magazine, and many other publications. His artwork is in public and private collections in the U.S. and Europe.
Visit Aron Wiesenfeld's website: http://www.aronwiesenfeld.com/