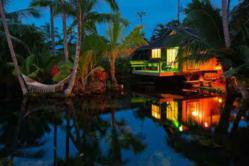 "Everything you need to restore your spirit is at Shangri-La," Keliihoomalu continued, "from separate yoga and meditation facilities to great local dining, snorkeling and swimming, clean air and the calming sound of the ocean."
Kamuela, Hawaii (PRWEB) November 05, 2012
MacArthur & Company Sotheby's International Realty is pleased to announce that Top Producer, Rebecca Keliihoomalu, R(B), will appear on HGTV's "Million Dollar Rooms" featuring one of the world's most unique properties,Shangri-La.
Who hasn't dreamed of finding a perfect place on earth and being able to return when life gets a little too intense? On November 6 at 11:00pm, Eastern and Pacific times (E/P), HGTV is doing just that when they take their viewers back to Shangri-La, a secluded coastal retreat on the Island of Hawaii which gives the peaceful and extraordinary a new layer of meaning.
The episode will be rebroadcast on November 7 at 2:00am (E/P), November 11 at 7:00pm (E/P), November 13 at 6:00pm (E/P) and December 15 at 5:00pm (E/P).
"There is something almost dreamlike and naturally healing about this place," said Rebecca Keliihoomalu, listing broker with MacArthur & Company Sotheby's International Realty. "I can certainly understand why a national TV network would want to feature Shangri-La a second time. It's as close to tropical perfection as anyone could imagine."
Located on Hawaii Island's lush east coast, Shangri-La offers unparalleled tranquility. Its four separate hale (houses) are located privately but within a short walk of open ocean. Crystal clear fish ponds and a private swimming lagoon averaging 92 degrees year round are refreshed daily by the tide.
"Everything you need to restore your spirit is at Shangri-La," Keliihoomalu continued, "from separate yoga and meditation facilities to great local dining, snorkeling and swimming, clean air and the calming sound of the ocean."
About MacArthur & Company Sotheby's International Realty:
Renowned for extraordinary service, worldwide marketing and a vast network of clients and brokers, MacArthur & Company Sotheby's International Realty, founded by Dodie MacArthur R(B), has been a leader in the luxury Hawaii real estate market since its doors opened in 1988. Combining personal attention, exemplary experience and unlimited resources enables MacArthur & Company Sotheby's International Realty, and its hand picked team of professionals in two Big Island locations, to consistently achieve record-breaking sales on the Kona-Kohala Coast and excel as a Big Island real estate market leader.
CONTACTS:
Rebecca Keliihoomalu
Real Estate Broker Top Producer
MacArthur & Company Sotheby's International Realty
808.895.1156
Or
Dodie MacArthur
CEO and Owner
MacArthur & Company Sotheby's International Realty
808.885.8885
# # # # #