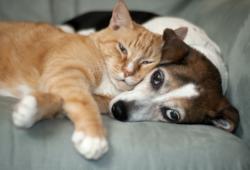 The microchip is one more way of reuniting pets with their owners in the event the pet is lost. We encourage pet owners to take every step to ensure their pet can be easily identified
Winnipeg, Manitoba (PRWEB) November 08, 2012
On November 10, D'Arcy's A.R.C. (Animal Rescue Centre), Manitoba Mutts Dog Rescue, The Winnipeg Humane Society (WHS) and Winnipeg Pet Rescue Shelter are coming together to provide a free identification microchip to animals who are adopted on that day from any of the four shelters. These four participating rescue shelters make up the Shelter and Rescue Alliance of Manitoba (SARAM).
D'Arcy's A.R.C., The WHS, and Winnipeg Pet Rescue Shelter will adopt their respective animals at each of their locations; Manitoba Mutts will have adoptable animals at Petcetera at 915 Empress Street. Every animal available for adoption will have an identification tattoo and a microchip, "The microchip is one more way of reuniting pets with their owners in the event the pet is lost. We encourage pet owners to take every step to ensure their pet can be easily identified," states Carla Martinelli-Irvine, Founder & Executive Director, Winnipeg Pet Rescue Shelter
"Having no ID at all is one of the reasons shelters are overflowing with unwanted pets," says D'Arcy Johnston, Founder & Executive Director, D'Arcy's A.R.C., "A microchip is another way to ensure you get your best friend back to you. Keep in mind a tattoo can fade over time making it difficult for rescue groups to reunite the pet with its rightful owner."
A microchip helps to easily and quickly identify an animal and its owners. Microchips are more reliable than a tattoo that can fade or a collar tag that can get lost, however SARAM recommends having all three forms of identification in order to ensure pets have the best chance of returning home if they are lost. Typically there is a fee charged to an adopter if they choose to microchip their pet.
"It is essential for pet owners keep their pet's information up to date," says Becky Nordquist, Executive Director of Manitoba Mutts, "If you change addresses, be sure to update your information with the shelter you adopted from as well as the registered microchip company."
The Winnipeg Humane Society is a registered charity and non-profit organization whose mission is to protect all animals from suffering and to promote their welfare and dignity. Funded primarily by donations, memberships and bequests, The WHS also offers pets and dogs for adoption by the public. All pets offered for adoption have been spayed or neutered, received necessary shots and treatments, and a behavioural assessment. If you'd like to learn more about dogs for adoption or The WHS please visit http://www.winnipeghumanesociety.ca