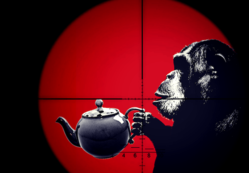 Leamington Spa, Warwickshire, UK (PRWEB) November 07, 2012
Andrew Graham, the man responsible for the design and coding on the original Micro Machines is set to change the way we play games on portable devices forever. Andrew has created, in the game known internally as 'Teapot', a game mechanic unlike anything seen previously. Kwalee have a huge level of confidence in this game and the man behind a game that sold 5 million copies world wide and went to number one in 27 countries.
A major selling point for the Sega Mega Drive versions of Micro Machines was the J-Cart, a cartridge including two control ports, eliminating the need for a four-player adaptor. It also included a 'pad-sharing' feature allowing two players to share a single joypad; enabling eight players to compete simultaneously which led the way in creating this ground breaking multiplayer and incredibly fun mechanism. Andrew's next instalment is looking like it can be just as revolutionary.
This latest creation was born of a simple and highly original idea that was initially prototyped solely by Andrew using Cocos, he is now in the process of porting that game into one of the most widely used development platforms - Unity. With the help of the talented and diverse art department headed up by James Horn this innovative game is set to create huge interest in it's mechanic and become a game that not only satisfies David Darling's thirst for games that are 'a lot of fun and multiplayer' but at the same time revolutionising the way in which consumers play multiplayer games using their mobile devices by doing what no other game has done before.
"I've been trying to create an original game mechanic and of all the ideas 'Teapot' has caught the imagination of everybody at Kwalee most" Andrew Graham - Gameplay Guru
Graham has bolstered his technical and programming knowledge over the last six years and has kept his finger well and truly on the pulse, he has formed what Kwalee call "an extensive understanding of artificial intelligence and deep knowledge of fundamental game mechanics that the studio will look to put to good use in it's forthcoming titles."
The game itself will boast familiar surroundings and identifiable characters giving the consumer a vicarious experience and again ensuring the player is driven by the seminal game mechanic and the achievements available to them. This is not a turn based game in the fundamental sense of the description: it goes way beyond that.
Jessica Darling, QA, has been testing the game extensively and she had this to say "it's just incredible to play a game like this, it's not like anything else I've played or that I've seen in development anywhere, we're all really excited and are looking forward to rolling it out next year and seeing what our audience make of it!"
David Darling CEO is particularly excited about 'Project Teapot' and had this to say " Andrew is an original thinker and someone who knows how to use their knowledge to build a game that appeals to the consumer and create an experience that they will want to share and play with friends, this game promises to tick all the right boxes and should be a ground-breaking multiplayer experience."
Andrew Graham Softography:
Dizzy - Treasure Island on the NES
Micro Machines on the NES
Micro Machines on the PSX
Psycho Pinball on the Megadrive
Micro Maniacs on the PSX
Worked on Dragon Empire at Codemasters
Worked on Scourge: Outbreak
########
Kwalee is a company based in Leamington Spa that develop and publish social multiplayer games for iPhone and other mobile devices.
Founded by David Darling CBE, co-founder of Codemasters, with decades of experience at the top level of the video game industry and contributions to many #1 games on numerous platforms in his CV. Kwalee is different. We seek to excite and entertain our customers with innovative new products that provide special experiences.
Our ethos is based around a set of core values that put the customer first and which harness the creative skills of our staff to the maximum in order to do so. Kwalee is always very actively looking for those special people who want to join us in our exciting journey.
For more information on Kwalee, check out kwalee.com Like on facebook.com/kwaleeteam and follow @kwaleeteam on Twitter
########
Please contact ian.kane(at)kwalee(dot)com for interview opportunities and more information.