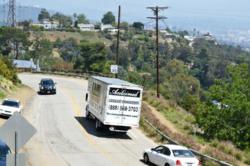 Acclaimed Moving services cater to the high end market of the moving industry for homes and businesses, providing full service relocation services including packing of home furnishings, vehicle transport services, and more
Agoura Hills, CA (PRWEB) November 06, 2012
Mayor John Edelston of Agoura Hills in a recent statement announced that the city of Agoura Hills has fared the past year well and remains financially prepared for the year ahead. The Chamber of Commerce, which represents the interest of Thousand Oaks, Westlake Village, and Agoura Hills, has expressed "no doubt that the economy is indeed recovering... we see signs of hope and progress every day in new businesses opening, older businesses reinventing and rebuilding themselves and preparing foundations for a more sustainable future". One business that has partook in the fiscal recovery of the past year in Agoura Hills is Acclaimed Agoura Hills Movers, a locally based full-service moving company that has recently expanded it fleet and services to a national scale with the acquisition of four new cross-country moving trucks.
Acclaimed Moving services cater to the high end market of the moving industry for homes and businesses, providing full service relocation services including packing of home furnishings, vehicle transport services, and more. Acclaimed has been ever changing in their focus, expanding their different services to meet the demands of a changing market. With the recent economic upturn on a national level and the growing solidarity in the Agoura Hills economy, Acclaimed has found the opportunity to expand their services on a national scale, now providing full-service moving to and from Agoura Hills to the entire country. The flexibility and adaptability of Acclaimed Moving and Storage has helped the company stay afloat even during the most difficult times. The low overhead, committed staff, and decisive research and development of Acclaimed Moving and Storage has helped the company stay afloat during the recession of the past five years.
The City Council has been able to maintain the local economy through a careful adaptation to balanced budgeting while funding public services the area has come to expect, according to Mayor Edelston. The pragmatic economic practice is one adapted by Acclaimed as well. The moving company and the city's gaining confidence in economic recovery are a beacon of hope for the nation as it continues to struggle-- but continues to recover as well.