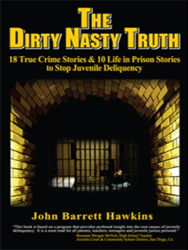 San Diego, Ca. (PRWEB) November 06, 2012
John Barrett Hawkins, author of The Dirty Nasty Truth: 18 True Crime Stories & 10 Prison Stories To Stop Delinquency is launching a new website geared toward delinquency prevention. The website hosts 23 short videos in which Hawkins tells true crime stories and prison stories with a focus on keeping teens safe.
The Dirty Nasty Truth is based on a youth intervention program called Convicts Reaching Out To People (CROP) that John Hawkins participated in while incarcerated at Donovan State Prison in San Diego. CROP was founded on the belief that the most effective way to deter juvenile delinquency is through storytelling. CROP was a public speaking forum, where prison inmates gave personal testimonies concerning drug use, gangs, crime, bullying, self-esteem, and life in prison – before large groups of teens – who were brought into the prison by parents, teachers, and police officers.
"This website can be a useful tool for parents, teachers and law enforcement professionals seeking to deter teens from making poor choices," Says Hawkins. "The stories I tell in these videos provide a non-threatening, non-judgmental platform for adults and kids to talk about important issues including drugs, drinking, shoplifting, bullying, gangs, sex and self-esteem."
Visit http://www.dirtynastytruth.com to view the videos or read free sample chapters from Hawkins' book.