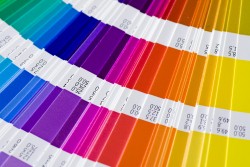 The first step in making a unique, attention-grabbing label is to consider its color scheme, says Business Development Manager AnneMarie Campbell.
Denver, CO (PRWEB) November 07, 2012
Lightning Labels, a custom label and sticker printing leader, has found that many consumers decide what to buy based on merchandise labels, and, more importantly, the color scheme found on the labels is what seems to appeal to the masses. To add value for customers, Lightning Labels digital printing experts have compiled industry advice for custom label design. Based on its assessment, Lightning Labels advises three ways to determine the best color scheme for stickers and labels. "Companies must do everything they can to stand out in this competitive market," says Business Development Manager AnneMarie Campbell. "The first step in making a unique, attention-grabbing label is to consider its color scheme."
1) Consider What Label Colors Can Say About A Product: It's often thought that colors can affect the way a person feels, and the same can be said for label color decisions. The first step in creating a product label color scheme is to determine what customers should feel when they are considering buying a specific product. For example, bedding products are commonly labeled using blues, greens, whites and shades of gray, all of which portray a sense of tranquility and calmness that people commonly associate with sleeping and, therefore, bedding products.
Organic and eco-friendly products commonly are labeled with greens, browns, creams and white, which mimic nature and instill a sense of environmental awareness. People who make it a point to purchase Earth-friendly products are naturally drawn to products with sustainably made labels because it automatically triggers thoughts of nature and conservation. Lightning Labels offers customizable eco-labels made from BioStone, recycled kraft, recycled vellum and EarthFirst PLA.
The colors red and orange are often used on labels and in product advertising to give buyers a sense of urgency and excitement, which is helpful to get buyers' attention and, in many cases, elicit a purchase. Red and orange are also quite attention-getting to most, which is why many warning labels and important product information is often printed in red and orange. However, bright colors and shades can be seen as jarring when overused, so it may be best to use red and orange as accent colors. Golds and purples typically give an aura of high-end products and even a sense of prestige. Some consumers have reportedly associated the colors with wisdom, wealth, nobility and extravagance.
However, all colors and shades mean different things to consumers. Although the color yellow is often associated with sunshine and joy, it may turn off potential buyers who have an aversion to the color for whatever reason. Although greens and blue traditionally symbolize tranquility, peace and calmness, they may actually give energy and a sense of excitement to people who consider them their favorite colors.
2) Do Label Research Before Committing To A Color Scheme: It may be easy enough for business owners to want to choose a label color scheme for a certain product based on what they find attractive, but it may not be that easy. Oftentimes, customers may find themselves calling their friend or spouse to pick something up at the store, only they've forgotten the name of the product and have to rely on a description instead. What would happen if "green and yellow-labeled product" could be used to describe more than one item? What would the value be of a label that stands out from competitors rather than blending in with all the rest?
Instead of blindly choosing a label color scheme, first do a bit of research. What colors are competitors' labels? How can companies ensure their color labels stand out from other products, and in a good way?
3) Acknowledge When the Best Customized Label Colors May Be No Colors At All: When trying to determine the best color for customized labels, the best option may be to go with classic black and white. If competitors' labels are all brightly colored or a product or packaging already displays an attention-grabbing color scheme, neutral may be the best way to go.
For those who are ready to update their color labels, Lightning Labels is running an Election Day Sale that's valid from November 5, 2012 through November 9, 2012. Save $75 off new orders of $550 or more. Simply use promo code ELECT75 at checkout. The promo code ELECT75 is valid on new label orders only and does not apply to reorders. Free ground shipping applies to regularly priced orders shipped within the United States and Canada, but shipping charges apply for printed press proofs. This offer cannot be combined with any other offers or promotions.
About Lightning Labels:
Lightning Labels uses state-of-the-art digital printing technology to provide affordable, full-color custom labels and custom stickers of all shapes and sizes, and now offers a full line of custom packaging products. From small orders for individuals, to the bulk needs of big businesses, Lightning Labels is equipped to handle and fulfill sticker, label and product packaging projects of all types. Best of all, like the name implies, Lightning Labels provides a quick turnaround to every customers' labeling and product packaging needs. Uses for Lightning Labels custom product labels and custom stickers include food packaging and organic food labels, wine and beverage labels, bath and body labels, and nutraceutical products, such as vitamins, essentials oils, and herbal remedies, as well as event stickers, adhesive window stickers and more. Lightning Labels strongly supports the development of environmentally friendly printing materials and carries EarthFirst PLA, a new kind of green label material made from corn instead of petroleum. While operating as a high-tech printer, Lighting Labels prides itself on its personalized customer service. Lightning Labels provides one stop shopping for all of your label and product packaging needs. For more information and to place orders online, visit LightningLabels.com. For the latest in packaging news and labeling promotional offers, find Lightning Labels on Facebook, Twitter (@LightningLabels), and Google+.