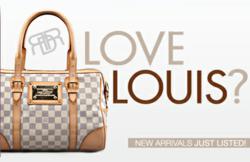 When shopping with shopRDR.com, buyers can rest assured that they are receiving guaranteed authentic heels …
(PRWEB) November 05, 2012
Rodeo Drive Resale (http://www.shoprdr.com), premier reseller of 100% authentic discount Louis Vuitton bags, Christian Dior pumps, Tiffany & Co. Jewelry and other designer fashions looks at the relationship between high end brands and major motion pictures, as well as offers luxury lovers amazing deals on some of fashion's biggest labels.
Product placement, or embedded marketing, is a type of marketing in which brands or products are worked into a film, television show, or more recently, music videos. In the recently released action-thriller, Alex Cross, ShopRDR.com spotted a product placement of luxury label Louis Vuitton whose bag was used by the film's co-star, Matthew Fox.
While Alex Cross used authentic LV merchandise, last summer's blockbuster comedy, The Hangover Part II, featured a scene in which a knockoff Louis Vuitton bag was used by actor Zach Galifianakis. Displeased with what they saw as a move that could confuse potential luxury buyers, Louis Vuitton filed a lawsuit against Warner Bros.
In the suit, Louis Vuitton said the bag featured in the film was actually made by the Chinese-American company Diophy and demanded millions of dollars from an alleged violation of the Lanham Act, which defines the statutory and common law boundaries to trademarks and service marks.
Although a federal judge would later dismiss the suit, the case illustrates the upscale brand's notoriety and the potential punishments that await those who buy or sell fake merchandise.
"Despite what you think, people know when you are faking it," shopRDR.com co-founder Raya Jaffer said earlier this year. "Cities like New York are introducing new legislation that will make it a misdemeanor to purchase knockoffs. Punishment can range from up to $1,000 or even a year in jail. Other cities are sure to follow. When shopping with shopRDR.com, buyers can rest assured that they are receiving guaranteed authentic heels from perhaps the only brand in the world that doesn't need a logo to be recognized."
Fashion lovers hoping to get their hands on designer fashions they have seen on and off of the silver screen can find amazing deals at ShopRDR.com. In addition to heels, shoppers are invited to explore ShopRDR.com's "Any Color … So Long As It's Black," hand bag event, a special promotion which offers savings on brands including Chloe, Marc Jacobs, Salvatore Ferragamo, Coach, Michael Kors, Prada in an array of colors, sizes and styles.
CELEB STYLE TIP OF THE DAY -- GO HOLLYWOOD: Besides protection from the sun, the right pair of shades add to the "cool factor" to even the most basic outfit. Sunglasses come in a variety of styles, so finding the right pair requires a bit of patience and understanding of which frames best compliment your face: Large, round frames work well with a square-shaped face, while those with round or oval faces should opt for shades with a horizontal frame.
Rodeo Drive Resale (shopRDR.com) has built a reputation of providing amazing deals on handbags, clothing and accessories from the top designers of upscale fashion. The company offers a 100% guarantee of authenticity on each item sold, and works daily with a network of clients looking to buy, sell, or for consignment of their luxury goods.
ShopRDR.com loves high-end fashion, and believes finding a high quality, classic piece should be an easy, enjoyable -- and most importantly -- hassle-free shopping experience. For the finest in Louis Vuitton, Chanel, Prada, Gucci, St. John Knits, Christian Louboutin, Tiffany & Co. and more, visit RDR online at http://www.shopRDR.com or call 1-888-697-3725. Also find shopRDR.com's blog at http://blog.shopRDR.com.
Also find shopRDR at:
Blog: blog.shopRDR.com
Facebook: facebook.com/shopRDR
Twitter: twitter.com/shopRDR
YouTube: youtube.com/ shopRDR
Pinterest: pinterest.com/shopRDR
Rodeo Drive Resale (shopRDR.com)
1-888-697-3725
service(at)shopRDR.com