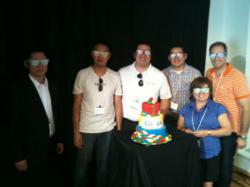 "Our goal is quite simple – to leverage the power of the Internet to help local businesses succeed."
Vancouver, British Columbia (PRWEB) November 14, 2012
LocalTrifecta is – as its name suggests – a Vancouver internet marketing company that offers local businesses a three-fold approach to marketing. There are many marketing firms out there that will offer businesses either search engine optimization (SEO), pay-per-click (PPC), or Local Map packages. The cost of each of these individual packages can rapidly exceed the marketing budget of many enterprises and one package alone is unlikely to produce the ROI that most businesses are looking for. LocalTrifecta's core services encompass the "trifecta" – all three of SEO, PPC and Local Maps – all for less than many internet marketing Vancouver firms charge for just one of these services.
"We build your business one search at a time," says Sam Araki, partner at LocalTrifecta Internet Marketing. "We don't want our clients to be taken advantage of by traditional marketers who provide only one type of marketing media. Our goal is quite simple – to leverage the power of the Internet to help local businesses succeed."
LocalTrifecta believes that the best results are obtained when SEO, PPC and Local Map results are integrated into one comprehensive approach.
Almost 95% of searchers never go to the second page of search engine results; it is therefore imperative that your business shows up on the first page of a Google search. This is exactly where this Vancouver SEO company improves your business's awareness and bottom line.
PPC advertising is the most expedient way to drive traffic to your site and to improve your conversion rate amongst those customers that are already interested in your products and services. Local Map positioning is arguably even more important as only seven businesses are profiled on any local map search. Competition for these positions is intense - there were two billion local searches last month on Google alone!
LocalTrifecta offers its clients access to all three imperative elements of internet marketing- SEO, PPC, and Local Maps- giving local businesses a significant return on their investment.
LocalTrifecta offers its clients 'no obligation, no contract' packages and stands by its commitment to bring qualified leads and tangible bottom line results – without the need for clients to be 'locked-in' to an agreement.
To see how LocalTrifecta will improve your business's marketing and bottom line, please visit http://www.localtrifecta.com.