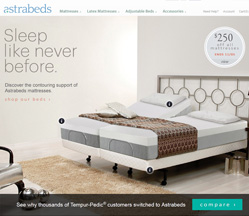 "The new AstraBeds.com gives us a new, clean, and fantastic user experience. Our customers deserve the best, from the first visit through the delivery of their bed, and we're proud to keep innovating in the eCommerce space."
Tempe, AZ (PRWEB) November 06, 2012
Sometimes you simply have to kill off the goose that is laying the golden eggs. And that's exactly what Astrabeds, a leading online mattress retailer, did this week in a move that shocked many local and national customers.
Creative Director Firas Kittaneh remarked, "Our company is known nationally for its easy, user friendly website. And we thought we had the easiest one, but there's always room for improvement. We're going for a flawless e-commerce experience here."
The new look clearly adds a more modern, open feel to the site and embodies the latest Web techniques for speed and efficiency, including HTML5, CSS3, Ajax and jQuery. Still a shining feature of the site is the friendly one-page checkout process.
"I loved their old site. I had recommended it to many friends, and it was already easy to use... but this just takes the cake. They did a really great job," commented Christopher Sands, a long time customer and one of the first owners of an AstraBed.
Now, products are highlighted with high-definition video and crisp photos on white backgrounds. Visitors can jump to different products easily in the expanded drop-down menu, which has a mini-view of each product in the catalog - no guessing where you're going to land.
Also, Kittaneh insisted that the site be littered with Informational pop-outs. "We want to give the user TOO MUCH information, but in the right places. Not in one huge paragraph, but right on the images as you hover over key areas."
A fresh, minimalist lifestyle blog was also added to the new AstraBeds.com. At press time, the blog included an incredibly researched Infographic titled How the World Slept starting with cavemen, moving through Greece and Roman periods and into early American history for a truly inspiring look at how inventive the human race has always been. In the coming weeks, the blog will showcase sleep tips, design ideas and interesting news in the area of sleep research and healthy living.
"The new AstraBeds.com gives us a new, clean, and fantastic user experience. Our customers deserve the best, from the first visit through the delivery of their bed, and we're proud to keep innovating in the eCommerce space." Kittaneh added.
To celebrate the launch of the new website, Astrabeds is offering $250 off all mattresses for a limited time, with coupon code "take250".
Astrabeds, part of e-commerce collective OneMallGroup, is an online retailer of memory foam mattresses, latex mattresses, adjustable beds and bedding. Based in Tempe, Arizona and in business since 2007, Astrabeds has earned a reputation of quality products and service, as well as a commitment to the latest technologies and competitive prices.