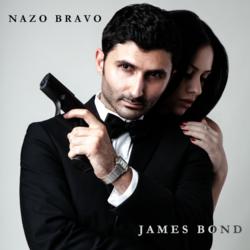 Hollywood, CA (PRWEB) November 06, 2012
In celebration of the 50th Anniversary of the James Bond franchise and the upcoming release of "Skyfall", recording artist Nazo Bavo pays homage with and original composition and video montage "James Bond". The single is currently available for purchase on iTunes.
"Bond, James Bond" evokes beautiful women, fast cars and the signature martini cocktail. These elements, as well as the danger that surrounds Bond exemplifies everything Hip-Hop. "When it comes to Swag, it doesn't get any better than Bond." says Nazo Bravo.
Born in the heart of Hollywood to a blue-collar, immigrant household, Nazo Bravo was raised to value education and his strong Armenian heritage, not necessarily steered by family toward a pursuit of fame. Nevertheless, as a youth, Nazo found himself drawn toward tales of urban struggle and was influenced by rappers like Tupac Shakur and Big Pun. The culture of Hip Hop and the awareness of its impact on society became part of Nazo's fabric as an Armenian-American. Inspired by contemporary Serj Tankian, Nazo forged his own label Mighty Hye Records to bring attention to often overlooked great artistry. Nazo Bravo is currently being produced by Corey "OZ" Simon (credits: T.I., Macy Gray, Xzibit) for his upcoming project "Mighty Hye", due for release early 2013.
A talented recording artist, Nazo is also an actor who has appeared on television and film projects including the hit TNT series Southland and the international TV series Dilemma. For information regarding Nazo Bravo and upcoming projects, visit http://www.NazoBravo.com.
To view the James Bond Video Montage visit the following link: [http://www.youtube.com/watch?v=MtgMyQhIbrk.