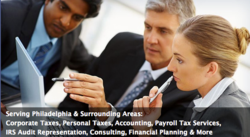 Taxpayers need to be aware of the potential changes to tax laws so they can plan accordingly in order to avoid penalties which can accrue due to them owing tax when they file their tax return.
Philadelphia, PA (PRWEB) November 07, 2012
As taxpaying citizens near the end of a politically-filled 2012 year, they may want to be a little more vigilant about how much money they are spending because there is a very real possibility that they'll need the extra funds come tax time to help offset the costs imposed by the alternative minimum tax (AMT), a relatively unknown provision of the tax code that all middle-class taxpayers are about to come face-to-face with.
According to a recent article, published in the Washington Post,
"Unless Congress acts by the end of the year, more than 26 million households will for the first time face the AMT, which threatens to tack $3,700, on average, onto taxpayers' bills for the current tax year. Because those people have never paid the AMT, they have no idea they are in its crosshairs — put there by a broader stalemate over tax policy that has kept Congress from limiting the AMT's reach."
What is the 'fiscal cliff'?
The fiscal cliff refers to the conundrum that the United States government will face at the tail end of this year, once the terms of the Budget Control Act of 2011 are scheduled to go into effect. Among the various laws set to change at midnight on December 31, 2012, include the following:
-End of temporary payroll tax cuts (which will mean a 2% tax increase for workers)
-End of certain tax breaks for businesses
-Shifts in the alternative minimum tax
-Beginning of taxes related to President Obama's health care law
-Beginning of spending cuts, agreed upon as a part of the debt ceiling deal of 2011
-Over 1,000 government programs, including the defense budget and Medicare will be among the first in line for "deep, automatic cuts". [source
Hiring a Philadelphia CPA to Assist with Your Tax Return After the Bush Tax Cuts
Dale S. Goldberg, Philadelphia CPA and owner of Dale S. Goldberg, CPA & Associates recently discussed the potential impact of the Bush tax cuts, stating:
"Bush tax cuts are due to expire in 2013, which will result in most people paying higher taxes. Some estimates put it at about $5,000 extra for the average citizen, depending on the state that they're from. For instance, dividend income and capital gains will no longer be taxed at a maximum of 15%...They can be taxed at 20% for capital gains, and ordinary rates for dividend income. Top rates will climb from 35% to 39.6%. Also some credits previously allowed will disappear. Taxpayers need to be aware of this so they can plan accordingly in order to avoid penalties which can accrue due to them owing tax when they file their tax return."
What can be done about the Fiscal Cliff? What will the impact be?
There is no doubt that the current presidential election will have a generous impact on the direction of the fiscal cliff and future tax policies- especially since a compromise has been difficult to achieve from either political party during an election year. However, the Congressional Budget Office (CBO) is currently suggesting that if Congress takes the middle ground by extending Bush-era tax cuts while canceling the automatic spending cuts, the short term result will be modest growth without any sort of major economic hit.
On the flipside, if the current laws slated for 2013 go into effect, the impact on the U.S. Economy will be dramatic. The CBO estimates that a combination of higher taxes and spending cuts would reduce the deficit significantly but would cut gross domestic product (GDP) by 4 percentage points in 2013, sending the economy into an immediate recession, while increasing unemployment by almost 1 percentage point.
But the impact is already being seen as this lack of resolution has already caused households and businesses to begin changing their spending as we wrap up 2012.
Philadelphia area businesses and taxpaying citizens will want to start seriously thinking about hiring a trusted and reputed Philadelphia CPA to help them sort through their finances now so that when it's time to file taxes, they'll be set. Especially with all of the potential changes that could be coming down the pipeline, it's better to be prepared ahead of time.
Call Dale S. Goldberg, CPA & Associates today at (215) 342.4200 to discover the many benefits that they can offer regarding accounting in Philadelphia.
"Providing personal attention and 25+ years of accounting experience."
About Dale S. Goldberg, CPA & Associates:
Dale S. Goldberg, CPA & Associates is a well established, full service accounting firm based out of Philadelphia, PA. From individuals with complicated tax situations to small businesses and large corporations, Dale S. Goldberg, CPA & Associates assists their clients with all of their tax and accounting needs no matter what the situation or circumstance.