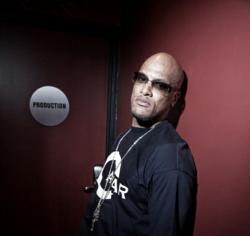 Hollywood, CA (PRWEB) November 06, 2012
Kannon "Caviar" Cross is known for his success as a Music Producer/Artist and Life Changer on the popular television show Dr. Drew Life Changers. Now he is diving into the realm of Social Media like never before.
Caviar was recently named an Advisor of Monkeybars, a socially driven online marketplace, which financially rewards artists and fans for distributing and recommending content online. Monkeybars partners with artists to affect true, positive change in the music industry by enabling an evolution in the distribution of content. Caviar is the mastermind behind the (AOI) tag line "Artistry Over Industry" which is used by Monkeybars as the slogan for their website. Currently, Caviar is working on the Monkeybars jingle.
Monkeybars.net launched a "Share a Song," online campaign which runs from October 15 to November 11 at midnight PST. The artist with the most social fan shares will be recognized at the Climbing the Rungs Award Show on November 15 and will win a day of music mentoring in Los Angeles. CA with Monkeybars Advisor, Kannon Caviar Cross.
In this day and age, Caviar knows the importance of social networking. He utilizes Facebook, Twitter, YouTube, Instagram and LinkedIn as a way to reach his fan base. Most recently, Caviar became the owner of his very own Custom Qubeey Channel.
Qubeey, is an innovative browser-free communications platform which will allow Caviar to integrate all of his social media accounts into one location. Qubeey's cutting edge assertive communications feature, allows Caviar to send notifications to his fans via his customized channel by appearing instantly on his followers' desktops, mobile tops and other devices, based upon follower request, even if they are off the web browser or working in another program. In October of 2012, Qubeey received over One Hundred, Million impressions since its exclusive celebrity launch event in Beverly Hills, CA.
Caviar Cross has worked and collaborated with a wide range of artists in the music industry, such as Aaliyah, Tank, Snoop Dogg, Slash from Guns N' Rose and Timbaland. He is currently producing upcoming projects with various artists, including: Noriega, E-40, T.I., Too Short, Joe Jonas, Goodie Mob, DMX, Macy Gray, MC Lyte and Cee Lo Green.
To date, Caviar has provided several young people with internships at his Hollywood, CA Recording Studio, "The Vault Sound Lab" and has begun motivational speaking on "The Laws of Attraction." His anticipated project, "Gangsta and a Gentleman III" is set to be released before the end of the year.