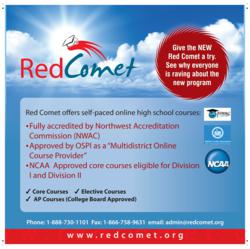 Prosser, WA (PRWEB) November 06, 2012
Red Comet offers a complete online program that is both rigorous and engaging. Red Comet, which was approved as an Online School Program by OSPI-DLD has teamed with Toppenish School District to create its first online program in conjunction with a school district. Red Comet's online program excels not only in the breadth of its offering but also has received the best ratings for student satisfaction in Washington State. Red Comet's online learning is engaging and presents even the most challenging topics in a way that students can understand. Students taking our online high school classes are challenged using a variety of learning techniques which makes learning interesting while keeping them motivated to complete their courses within the allotted schedule.
Red Comet delivers content in a variety of formats that are compatible with assistive technology and accommodate different learning styles. We strive to ensure that students with barriers have equal opportunities to achieve their highest potential. We have found that the self-paced study, small chunks of study with immediate feedback, and extensive practice with our several practice quizzes is particularly useful for students with learning barriers. Our curriculum also emphasizes and re-emphasizes key concepts which helps reinforce learning in students with language issues.
Red Comet online program strives to provide the most inclusive setting where all students are offered similar learning opportunities. Students are encouraged to work in the least restrictive environment. Students are given the choice and opportunity to work in the environment that best suits their particular educational needs. Students can use the Spanish translations of the courses to study. Only when they feel that they have mastered the material, can they choose to take the final tests which will be in English.
"U.S. demographics are changing and students of Hispanic origin are entering high schools in greater numbers. In some major metropolitan cities, they sometimes make up nearly 50% of the student population. Studies indicate that only about 15% of the Hispanic students are proficient at reading at their grade level. Red Comet has invested heavily to make our technology-based learning accessible to students of Hispanic origin," said Dr. Jay Srinivasan, Managing Director of Red Comet.
"Now, with the click of a button, ESL learners can switch the entire website content to Spanish. They can access the entire course content in Spanish with the click of a button. The content of all core courses and electives are translated to Spanish to assist students overcome the language barrier. These translated versions will be available as resources for the student to refer to when they are studying the course material," said Ms. Sapna Ganeshan, President of Red Comet.
Students throughout the country use Red Comet's high school classes that include all core subjects – Language Arts, Science, Mathematics and Social Studies, as well as numerous high school electives. A variety of students use Red Comet's online learning program – students in need of credit recovery, students attending public high schools who cannot attend all of their high school classes, students attending private schools who are looking for electives or Advanced Placement classes, home school high school students who need help in specific subject areas, athletes, students with part-time jobs etc.
For Immediate Release
Contact Information:
Dr. Jay Srinivasan
Managing Director,
Red Comet
1-888-730-1101
jay(at)redcomet(dot)org