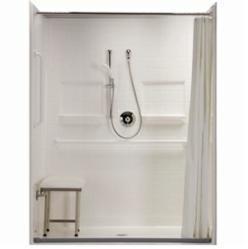 We are excited to offer customized colors on several of our walk in showers and walk in bathtubs. It gives our customers more options for design, being able to have a shower specially colored based on the existing decor.
Denver, CO (PRWEB) November 06, 2012
Aging Safely Walk In Bathtubs, a company committed to supplying mobility impaired individuals with walk in tubs and other fixtures that make bathing accessible, is excited to offer customers the opportunity to customize colors when ordering the 3060 and 4834 walk in showers. Additionally, Aging Safely will also offer other models of the same product line upon request. Although a walk in bathtub has always been an excellent choice for many seniors and those with limited mobility, the expanded shower selection and color offerings help make a roll in shower a great bathing option for many customers.
Zach Wennstedt, CEO of Aging Safely, stated, " Customers have been exceptionally responsive to choosing colors for fixtures that promote safe bathing when we offer customized colors for some hydrotherapy tubs and walk in tubs. Now customers purchasing the 3060 or 4834 roll in shower can customize the shower's appearance. Sometimes the size of a shower is limited by space confinements, so customized colors give customers an opportunity to make the shower more appealing to their sense of style. "
Rather than choosing from a limited color palette, customers will be able to match colors based on their existing furnishings, paint colors and hardware. The broad color selection gives customers the opportunity to match colors to existing fixtures, or select contrasting colors that complement the bathroom decor. The custom colors personalize the appearance of the shower by transforming the shower into a decorative fixture that can help tie the appearance of the bathroom together. When customers enter the walk in shower, they will enjoy being surrounded by color and patterns that they have personally selected.
Aging Safely sales representatives have experience assisting customers with color selection for all bathroom fixtures that can facilitate safe bathing, including hydrotherapy tubs, walk in bathtubs and walk in showers, so customers who want to coordinate their walk in bathroom fixtures to their bathroom can seek guidance. If desired, Aging Safely consultants can also help customers choose colors that contrast interior grab bars to increase the visibility of grab bars in their walk in shower or walk in bathtub.
Aging Safely representatives are consistently focused on informing customers about the benefits of hydrotherapy to potentially reduce inflammation and ease aches along with the benefits of selecting a walk in shower, which can help them to bathe safely while standing or sitting. When the 3060 or 4834 does not satisfy customers' needs, and they do not want hydrotherapy tubs that offer the benefits of hydrotherapy massage or a walk in bathtub without jets, Aging Safely offers a full line of bathroom safety products such as grab bars and lifts, and offers customers personalized support regarding aging in place and safe bathing products.
Contact Information:
Zach Wennstedt
1-888-779-BATH(2284)
info(at)agingsafelybaths(dot)com