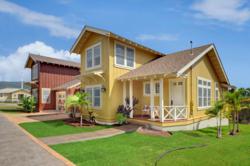 The Developer has worked tirelessly to create a lasting and tasteful property that seamlessly ties into Kauai's rural character and appreciation for Kauai's architecture. -- Hannah Sirois, Principal Broker, Kauai Heritage Properties
Poipu Beach, Kauai, Hawaii (PRWEB) November 06, 2012
Buying Kauai real estate has become more affordable as a result of the new Kalaheo Town Cottages. Exclusively offered by Kauai Heritage Properties LLC, these unique homes were developed by Pu`u Aloha, LLC and built by Pu`uwai Design and Construction, a two time Hawaii Parade of Home Winner.
Located in the heart of Kalaheo and only 15 minutes from Poipu Beach, homeowners benefit from the quality craftsmanship of each 2 and 3 bedroom Kauai property, their exceptional value starting at $395,000, and the convenience of in-town living close to stores, restaurants, schools and golf.
"The Kauai market is starved for affordably priced homes that are brand new, architecturally distinctive and within easy walking distance of all in-town conveniences," stated Hannah Sirois, Principal Broker at Kauai Heritage Properties. "Kalaheo Town Cottages delivers to all of these elements."
The public is invited to drop by the grand opening open house on Saturday, November 10, from 10:00am to 3:00pm, to view the two newly constructed Kauai homes and enter a drawing for gift certificates to various Kalaheo Town businesses. This new Kauai real estate development is located at 2494 Pu`u Road in Kalaheo.
Kauai Homes For Sale from $395,000
Features of each two-level Kauai home include vaulted ceilings, two bathrooms, kitchens with granite countertops and wood cabinets, screened living lanais and beautiful island style design and interiors. The floors within the living and bedroom areas are a combination of hardwood and carpet. Home amenities include a walk-in closet, his and her vanities, and laundry room with washer and dryer. Each residence has its own yard and a single car garage. The master bedroom is located on the main floor and upstairs there is a choice of a having either one bedroom and family room or two bedrooms.
Kauai Cottages Will Be Offered to Investor and Owner Occupant Buyers
During the thirty day-period following the November 10, 2012 release of these Kauai properties, at least fifty percent of the residential units being marketed shall be offered only to prospective owner-occupants. This is in accordance with Hawaii Revised Statute 514B-95.5. There are to be a total of six Kauai homes for sale at Kalaheo Town Cottages, and two have been completed for the grand opening.
Kalaheo Community - 15 minutes from Poipu Beach
Situated inland from Poipu Beach, Kalaheo boasts a vibrant community of 4,500 residents with an average age of 42 years according to the 2010 censes. The local Kalaheo Elementary School is a short walk away from Kalaheo Town Cottages and ranked in Hawaii's top 100 by School Digest. Other places within a five minute walk are the post office, pharmacy, hair salon, restaurants, yoga studio and a doctor's office. Only five minutes by car is the popular Kukuiolono Golf Course where all day golf is $9.00 on their historic ocean view course.
Pu`uwai Design and Construction - Award Winning Builder
The accomplished builder of fine homes and commercial retail businesses, Pu`uwai Design and Construction, has directed its focus to an affordable product in Kalaheo Town Cottages. Winner of the Hawaii Parade of Homes in 2000 and 2002, the company president, Justin Thain and his wife Malia, an interior designer, have built a reputation for excellence, quality and craftsmanship. They are assisted by a dedicated and knowledgeable staff and are located on the island's South Shore.
"Pu`uwai Design & Construction prides itself in its local roots and in depth understanding of all elements of design and construction," remarked Justin Thain, President of Pu`uwai Design and Construction. He further stated, "As a local Kauai based construction company, with years of experience in this market, we are in tune with our customers, their needs and desire for quality homes at all price points."
Central Pacific Bank and Title Guaranty Escrow Services
The developer received construction financing through Central Pacific Bank and has aligned with Title Guaranty Escrow Services, Inc., for all escrow needs.
About Kauai Heritage Properties, LLC. - Top 100 Realtors in Hawaii
Recently named one of Hawaii Business Top 100 Realtors in 2012, Hannah Sirois (PB), and Peter Sirois (R), deliver some of the most sought after Kauai real estate properties to the market.
For more information, please contact the Exclusive Sales Agent, Kauai Heritage Properties LLC and Hannah Sirois (PB) and Peter Sirois (R) - Listing Agents at 808.742.1191 or info@kauaihp.com. See their website at http://kauaiheritageproperties.com.
Cooperating Brokers are encouraged with commissions at the rate of 2.5% of the sales price paid at closing to agents who are licensed in Hawaii. Prices, specifications and locations are subject to change without notice. Room dimensions and square footages are approximate and should be considered estimates only. Locations and layouts may vary. Renderings, photographs, websites, floor plans, amenities, upgrades, views and other information described are representational only and subject to change in Developer's sole discretion. Developer recommends that all prospective buyers review the public report issued by the Hawaii Real Estate Commission under Registration Number: 7233 and recorded documents for the project as they and the sales contract documents are the controlling documents for the project. There is no purchase necessary to enter the drawing for gift certificates to neighboring businesses and winners need not be present to win.