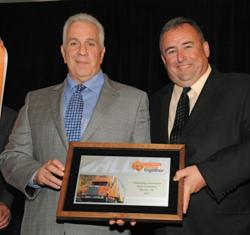 Chicago, Illinois (PRWEB) November 07, 2012
Allied Van Lines, Inc., one of the world's largest moving companies and a subsidiary of SIRVA, Inc., is pleased to announce that Siracusa Moving & Storage of New Britain, Connecticut has been named as its 2012 Agent of the Year. This is the second year in a row that Siracusa has won this award. This award was presented at the 2012 Allied Van Lines National Convention, held October 15-18, 2012 in Phoenix, Arizona.
"Being recognized not once, but twice as the top Allied agent is completely humbling, knowing the quality of agents in the system we were competing against," commented Daniel Siracusa, President & CEO of Siracusa Moving and Storage. "Once again, this award is a reflection of the dedication and perseverance of our employees who were not satisfied with last year's award, but were motivated to continue to raise the bar on serving the customer and our community this last year."
"Winning this award back to back is a testimony of a dedicated agent who never rested on their laurels," said Bill Lyon, Vice President and General Manager of Allied Van Lines. "While there were many outstanding agents this year, Dan and his team clearly showed through their performance and service that they were clearly the agent of the year."
Allied's Agent of the Year award recognizes those agents that continually provide outstanding customer service and experience growth in all aspects of their household goods moving business. Qualifying agents must generate at least $2 million in revenue in both booking and hauling and meet high standards for quality and customer service. They must also demonstrate a significant increase in the total revenue for both hauling and booking.
About Siracusa Moving & Storage
Siracusa Moving & Storage was founded 1978 with one truck. In 1992, Siracusa joined Allied Van Lines and grew to become one of Allied Van Lines' largest interstate agents. Siracusa recently moved into a new 215,000 square foot corporate headquarters and warehousing operation. Siracusa Moving & Storage is part of the Siracusa Group, headquartered out of New Britain, Connecticut. For more information, visit http://www.siracusamoving.com.
About Allied Van Lines
Established in 1928, Allied Van Lines, with more than 400 agent locations in North America, is an experienced leader in household goods moving and specialized transportation services. Allied is one of the world's largest moving companies and one of the established global brands of SIRVA, Inc., a leader in providing relocation services to corporations, consumers and governments around the world. For more information about Allied Van Lines, visit http://www.allied.com. Allied Van Lines, Inc., U.S. DOT No. 076235
About SIRVA, Inc.
SIRVA, Inc. is a leading provider of relocation solutions to a well-established and diverse customer base around the world. The Company handles all aspects of relocation, including home purchase and home sale services, household goods moving, mortgage services, and home closing and settlement services. SIRVA conducts more than 300,000 relocations per year, transferring corporate and government employees in addition to individual consumers. SIRVA's well-recognized brands include Allied, Allied International, Allied Pickfords, Allied Special Products, DJK Residential, Global, northAmerican, northAmerican International, SIRVA Mortgage, SIRVA Move Management, SIRVA Relocation and SIRVA Settlement. More information about SIRVA can be found on the Company's Web site at http://www.sirva.com.