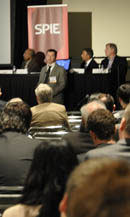 This panel provides a unique opportunity to hear what's new from the people defining the future, and to ask questions of these industry leaders face-to-face.
Bellingham, Wash. (PRWEB) November 06, 2012
Silicon photonics and photonics integrated circuits technology is on the brink of revolutionizing computing with smaller, cheaper optical interconnects, impacting fields from communications and security to biomedicine and entertainment. A panel of industry experts at SPIE Photonics West 2013 in February in San Francisco will explore the latest R&D progress, and provide insights on how to leverage this disruptive technology.
The panel on Silicon Photonics and Photonic Integrated Circuits is a well-attended return feature in the event program, notes moderator Peter Hallett, SPIE Director of Marketing and Industry Relations.
"The year-to-year popularity of this panel at Photonics West reflects strong interest in what Intel, Oracle, Luxtera, OneChip, and Infinera are doing to advance this exciting field. This panel provides a unique opportunity to hear what's new from the people defining the future, and to ask questions of these industry leaders face-to-face," Hallett said. "Impending advances in silicon photonics will help create a new market of miniaturized photonic components that can leverage the scale of complementary metal-oxide-semiconductor (CMOS) manufacturing."
Registration for the panel is free of charge, and also allows admittance to the nearly 1,200-company Photonics West Exhibition and other industry events.
Panelists include:

SPIE Fellow Mario Paniccia, Fellow and General Manager of Silicon Photonics Operations at Intel Corp., where his team has pioneered several activities in silicon photonics, demonstrating the first continuous wave silicon laser in 2005 and with the University of Santa Barbara the first hybrid silicon laser in 2006; named R&D Magazine's "Scientist of the Year" in 2008.
Ashok Krishnamoorthy, Chief Technologist in Photonics at Oracle and Principal Investigator for the Oracle Labs DARPA UNIC initiative on silicon "photonics-to-the-processor"; formerly Director at Sun Microsystems.
Peter De Dobbelaere, Vice President of Engineering at Luxtera; formerly leader of product development and reliability of polymer-based thermo-optic waveguide switches at Akzo-Nobel (Netherlands), and CTO and Director of Product Engineering and Reliability at OMM.
Radha Nagarajan, Fellow and Director of Engineering in the Photonic Integrated Circuits Group of Infinera; formerly development manager of SDL's new-generation 980nm pump, which won the Photonics Circle of Excellence Award in 2000.
Andy Weirich, Vice President of Product Line Management at OneChip Photonics; formerly Vice President of Products and Technology at Ciena Networks, and co-founder and Vice President of System Architecture at Catena Networks.
In addition to the panel, more than 100 presentations on silicon photonics and PICs are accessible as part of the full program with technical conference registration.
A short course on Silicon Photonics taught by Jurgen Michel of Massachusetts Institute of Technology provides an opportunity for those new to the field to learn new skills. For details and to register, visit the Photonics West website.
About SPIE
SPIE is the international society for optics and photonics, a not-for-profit organization founded in 1955 to advance light-based technologies. The Society serves nearly 225,000 constituents from approximately 150 countries, offering conferences, continuing education, books, journals, and a digital library in support of interdisciplinary information exchange, professional growth, and patent precedent. SPIE provided over $2.7 million in support of education and outreach programs in 2011.