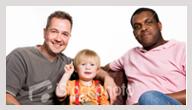 Providing online consultation for the LGBT couples by using social networking sites and Skype to help the LGBT community to become parents."
Los Angeles, CA (PRWEB) November 06, 2012
When the American President Barack Obama supported gay marriages and gay parenting, it created sensational buzz across the globe. Obama has an impressive record of supporting Lesbians, Gays, Bisexuals and Transgender (LGBT) community. Moreover, he has done much more for LGBT rights as compared to any other the U.S president.
Obama's support towards the gay community shows, they are just like other human beings and every person needs to support and accept them as they are. Gay couples want to lead the life as the other normal couples in the society.
In this digital era, everything is happening online. A poll conducted by Grape5 states, 3 in every 5 gay couples meet online. It means 71% of new Lesbian and gay couple met online. Maximum couples met in social networking sites like Facebook, Twitter and Google+. They have their own community pages, groups as well as the websites. For the LGBT community, Internet is clearly gaining much popularity and becoming the way to communicate with other gay online.
In addition, Grape5.com survey shows, more than half of gay men and lesbians in the U.S. would like to have a baby. It means more than two million people eagerly wants to be parent through surrogacy. As it is a difficult task and costly process in America, they are looking towards India for surrogacy. In India, it is a legal affair with lenient laws. Rent a womb law was came into act to control the injustice and promote fair practice of surrogacy. Through this law, gay couple can easily establish their families.
By looking at the popularity of social networking sites, 'Surrogacy Abroad Inc' is introducing a new service for the LGBT community. It is providing online consultation to the LGBT couples. Expert doctors will be interacting with the couples to know their problems. As there are speculations about gay parenting that the children who are brought up by two dads or two moms will have social and emotional problems. However, this speculation is unsubstantiated. It's just the psychological mindset of human being that holds the opinion of "homosexual couples are not capable of raising a child." There are no scientific bases for concluding that they are unfit parents.
However, Grape5.com's survey states, there hasn't been much difference in a child who has been raised by gay, lesbian or a normal couple. Also shows, on an average, the homosexual couples are found to be more educated and higher in economic resources than the heterosexual couples. The decision is always a 'chosen decision' when it comes to gay parenting, thus they are prepared from all the aspects to become a proud parent.
Benhur Samson, CEO-Surrogacy Abroad Inc states his vision on gay parenting, "at surrogacy abroad Inc. we help gay couples in having their own baby, because we know how blessed you feel when you are the proud parents of a baby. We have started free online consultation for the LGBT couples by using social networking sites and Skype to help the LGBT community to become parents."
The gay couples who are looking for surrogacy in India can easily choose their way towards parenthood, by taking free consultancy from Surrogacy Abroad, and they say that Gay Parenting is a decision you ask for life and brings a whole set of responsibilities with it.
About Surrogacy Abroad: Surrogacy Abroad Inc. is an international surrogacy agency based in Chicago, owned and operated by Benhur Samson, a native Indian and business entrepreneur. Surrogacy abroad offers a wide range of options to fulfill your dreams of parenthood with the well-equipped, state of the art infertility treatment in India.
For more Information:
http://www.surrogacyabroad.com/