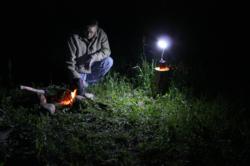 There are many excellent alternative energy light producing products available today. We believe our thermoelectric power on demand tPOD1 is the most effective and least costly product in its category." Rich Harmon, Program Manager, Tellurex Corporation
Traverse City, Michigan USA (PRWEB) November 08, 2012
As part of its initiative to offer efficient, low cost and durable light producing products for communities in developing nations, in conjunction with the Michigan Economic Development Corporation (MEDC), Tellurex Corporation announced today that Rich Harmon, Program Manager and Norm Golm, a Tellurex Director will exhibit and demonstrate the company's newest product, the tPOD1 at the upcoming Lighting Africa Conference in Dakar, Senegal.
As stated in its website http://www.lightingafrica.org, "Lighting Africa is a joint IFC and World Bank program that works towards improving access to better lighting in areas not yet connected to the electricity grid."
It further states, "Lighting Africa catalyzes and accelerates the development of sustainable markets for affordable, modern off-grid lighting solutions for low-income households and micro-enterprises across the continent."
According to Lighting Africa, "About 600 million people, and more than 10 million micro-enterprises, across Africa have no access to electricity. They use inefficient and costly fuel-based lighting sources such as kerosene lamps, which greatly curtail their socioeconomic activities once darkness sets in. To date, Lighting Africa and its partners have made it possible for more than 3.8 million people in Africa to access clean, safe lighting."
Rich Harmon noted that, "The key Tellurex objective at the Conference is to demonstrate the LED light producing benefits delivered by our tPOD1 compared to traditional, costly, inefficient and hazardous kerosene lamps that are prevalent throughout the African continent." Harmon continued, "We will show that the tPOD1 produces approximately 4 times the light at roughly 1/17th of the operating cost of the traditional kerosene lamp. We would also note - beyond the exact objectives of this trade fair - that a tPOD1 is not just a lamp; it's a personal power generator. With the addition of a small battery pack, the tPOD1 will also address the needs of many Africans for a convenient activation of dead cell phones."
Tellurex Corporation is a Traverse City, Michigan-based company pioneering thermoelectric products and applications. The company develops its own products and also collaborates with others to advance its technology and product design into medical testing equipment, wireless sensors, thermally controlled enclosures and many other applications in both power generation and thermal management.
For more information, please contact Rich Harmon at 231-947-0110, or rharmon(at)buytpod(dot)com.