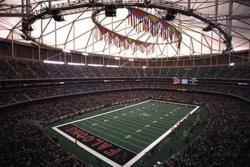 Atlanta, GA (PRWEB) November 07, 2012
They just keep winning. The Atlanta Falcons are soaring, both on the field and at the ticket window. Now entering Week 10 of the NFL season, the Falcons are at 8 – 0, making them the only undefeated franchise in the league. Plus, their unbeaten record puts the Falcons just two wins away from securing a playoff berth.
Last Sunday, the Cowboys come to town, looking for a win at the expense of the Falcon's perfect season. No dice as the Falcons prevailed 19 – 13. Next week, the team travels to New Orleans to play the New Orleans Saints. Then they host the Arizona Cardinals at home on November 18, 2012.
The team has four home games left, including rematches with New Orleans Saints on Thursday November 29th, the New York Giants on December 16th, and the Tampa Bay Buccaneers on December 30th.
"The Georgia Dome is officially sold out for the upcoming Arizona Cardinals game on November 18th," said Felina Martinez at online ticket marketplace BuyAnySeat.com. "Fans in Atlanta are turning out in droves to support their unbeaten team. That's why we're proud to be able to offer Falcons fans a complete selection of cheap Atlanta Falcons tickets, with a worry-free guarantee to protect their purchase," said Martinez.
"In fact, we have a complete selection of the discount Atlanta Falcons tickets now available on our site," said Martinez. "To access the cheap Atlanta Falcons tickets we now have available, customers can go to BuyAnySeat.com and search for the Atlanta Falcons – then select their tickets," said Martinez.
So far this year, an average of 70,061 fans have attended the first four Atlanta Falcons home games for a 98.3 percent attendance record. These numbers exceed last year's eight home game season average attendance of 68,986 fans and 96.8 attendance percentage.
Since 2008, the Falcons have compiled a 43-21 regular season record, which is the fifth-best record in the NFL during that time. During the same period, the club recorded four consecutive winning seasons (10-6, 9-7, 13-3, 10-6), the only team in the National Football Conference (NFC) to do so.
The team's accomplishments in the last four seasons are unprecedented in team history and among the best in the NFL. Atlanta's .672 winning percentage over the past four seasons is also the highest in team history. In addition, last year Head Coach Mike Smith became the first coach in franchise history to lead his team to consecutive playoff appearances (2010-11).
While an 8 – 0 start, four consecutive previous winning seasons, an NFC South Division title in 2010, and playoff berths in three of the past four seasons are all big accomplishments for the Falcons Nation, the ultimate goal remains: a Super Bowl championship for Atlanta and Georgia. This could be the year.
To shop for cheap Atlanta Falcons tickets, or tickets to any other NFL game, visit BuyAnySeat.com.
About BuyAnySeat.com: An online ticket marketplace, BuyAnySeat.com connects sports, theater and other live entertainment fans to an extensive worldwide network of ticket sellers. The site's simplified listings and navigational tools enable fans to easily locate, compare and purchase inexpensive, discounted or lower-priced tickets to virtually all advertised sports and entertainment events around the globe. The site, which is PCI-compliant and Norton Secured, also provides customers with a complete Worry-Free Guarantee on all ticket purchases. Based in Denver, Colorado, BuyAnySeat.com is a subsidiary of Denver Media Holdings. For more information, please visit http://buyanyseat.com.