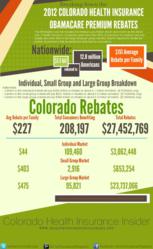 The amount you'll receive will vary greatly from one family to another, depending on which health insurance carrier you have.
Fort Collins, CO (PRWEB) November 08, 2012
One aspect of the Affordable Care Act - otherwise known as Obamacare - that directly benefits a lot of Americans is the Medical Loss Ratio (MLR), which requires health insurance carriers to spend at least 80% (85% for large group carriers) of collected premiums on medical claims and improving quality of care. Many carriers were already meeting MLR rules before the new requirements went into effect, but some were not. 2012 was the first year that carriers that didn't meet the MLR rules were required to rebate premiums to policyholders.
Insurance Shoppers, a leading Colorado health insurance broker, has created an infographic illustrating the 2012 Colorado health insurance Obamacare premium rebates. It details how the Obamacare 2012 premium rebates impact the average family in Colorado and how those numbers compare to the rest of the country. For Colorado families who received a premium rebate, the average rebate was $227, which is higher than the national average of $151 per family. Rebates were significantly higher in the group market than in the individual market, which is reflective of the much higher overall premiums in the group market. Although Colorado residents received over $27 million in total rebates, it's important to remember that the rebates were only sent to people whose carrier did not meet the MLR rules. So although over two hundred thousand Colorado consumers received premium rebates, the vast majority of the state's 5.1 million people did not. "Our own family changed policies in the middle of 2011, so we were insured by two different carriers during the year", says Jay Norris, President of Colorado Health Insurance Insider. "We received a small six dollar rebate check from one, but nothing from the other. The amount you'll receive will vary greatly from one family to another, depending on which of the health insurance companies in Colorado you have. And since most carriers were already meeting the MLR rules prior to 2011, most consumers will not receive a rebate."
If you have questions about the ACA-mandated health insurance premium rebates, you can contact your carrier, the Colorado Division of Insurance, or the Colorado Health Insurance Insider. For more information visit http://www.healthinsurancecolorado.net/blog1/ or call 720-352-7561.