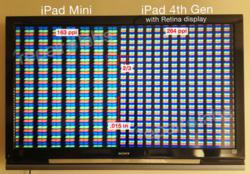 We are the first to bring you a real up close look at these apple displays
Wichita, Kansas (PRWEB) November 07, 2012
As a leader in mail in personal electronic device repairs who place a special emphasis on Apple products, RepairLabs released images and its take on the impact of the new retina display on the 4th generation iPad and iPad Mini released today.
The images released of the comparison between the iPad displays can been seen here, and video here. RepairLabs continues to be a leader in demonstrating the real inside perspective of the secretive Apple devices, giving us less tech savvy peeps a way to understand what has changed.
There has been been much anticipation over the anticipated changes to the latest released iPad or also known as the 4th generation. RepairLabs dove in to take up close images of the difference. "With the highly anticipated iPad mini going on sale today and with many of the rumors and hearsay flying about regarding its screen resolution, we thought we'd put all of the iPad generations under the microscope to see what's really going on with the different display resolutions". " not only from looking at the display with the naked eye but even more so under the micro scope you can see a significant difference in the quality of the picture" said Taylor Huddelston who is the head repair technician. Mr. Huddelston went on to say " the basics of the latest version of this iPad are the same but a few aspects like the retina display make a real difference". What RepairLabs did is compared the Retina Display with each of the previous generations of the iPad along with the new mini. This gives you an idea of what the real difference between them is.
When asked what kind of impact this could have on the durability and repair of these devices Mr. Huddelston said, "the components are still basically the same, we don't foresee any problems with breakage or repair"