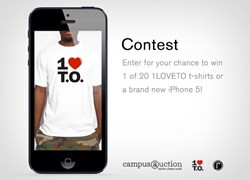 (PRWEB) November 07, 2012
CampusAuction: Bid for a Better World (http://www.campusauction.com) is offering an iPhone 5 and 20 T-shirts in a contest that will help provide services for marginalized and disenfranchised young people.
CampusAuction is teaming up with 1 LOVE T.O. to support The Remix Project.
CampusAuction will donate $1 to The Remix Project for everyone who joins, to a maximum of $500.
Eligibility to win one of 20 T-shirts or an iPhone 5 requires two simple steps:
1. Sign up for CampusAuction using this link: http://bidd.ly/ca/r/14708/1LOVETO/
2. Retweet the following: Win an iPhone 5 via @CampusAuction & @1LOVETO tinyurl.com/c78tc63.
For every entrant, CampusAuction will give $1 to @theremixproject.
The contest closes on November 10, 2012.
CampusAuction: Bid for a Better World connects conscientious consumers with businesses that care about the same things we care about! Every year, 50% of profits (or 10% of gross revenue, whichever is greater) is contributed to charity partners, based on the votes of CampusAuction members.
The Remix Project is a youth-led, urban arts organization focused on the individual while building a strong and healthy community. Programs and services serve youth who are trying to enter into the creative industries or further their formal education, providing top-notch alternative, creative, educational programs, facilitators and facilities.
For additional information on CampusAuction and a complete media kit, please contact:
Justin – CampusAuction
604.224.1015
Justin(at)campusauction(dot)com