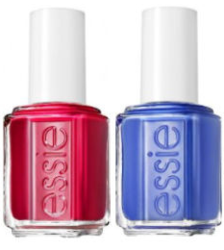 We know that many women worry about the cost of looking good, particularly at this time of year when many of us have a number of parties, functions and events to attend
(PRWEB) November 07, 2012
For those who love glitz and glamour, the only brand to be spotted in is Essie. With a rainbow hue of fashion-forward colors, lux packaging and award-winning shades, Essie polish regularly graces the fingers and toes of Hollywood's A-list. This festive season, eNail Supply is offering an Essie nail polish discount, with several lavish AW 12 shades marked down for the holidays. Prices start at just $6.99, making it affordable to stock up ahead of a busy schedule of December Christmas Parties and New Year celebrations. Chip resistant with a flawless finish, Essie shades such as the sultry red Leading Lady and cool blue Butler Please are tough enough to stand up to a busy social schedule without compromising on effortless femininity and opulence. Colors can be mixed and matches to create a custom manicure or pedicure at home.
For nails needing a little TLC to look their best over the holidays, the Rejuvacote range helps to repair neglected nails. The intensive repair system nourishes, hydrates and protects, restoring weak, brittle and peeling nails to their former glory in just a few weeks. It can be used to repair the damage of acrylic nail removal and will work when painted over existing nail polish. It can be purchased online from eNail Supply for just $9.49.
Sudeep Arya Vice President of Marketing at eNail Supply said, "We know that many women worry about the cost of looking good, particularly at this time of year when many of us have a number of parties, functions and events to attend. Our cheap nail polish ranges are designed to make glamour affordable, without compromising on quality."
As part of its commitment to keeping costs low, eNail Supply has added a number of nail art decals to its winter savers. Perfect for party season, the decals act like transfers or stickers and are an incredibly easy way to experiment with a temporary new look. Unlike traditional nail art, the decals can be applied to natural nails, making them a cheaper alternative to acrylic or gel nail extensions. Available in a range of designs including flowers, arts and butterflies, the decals are simply peeled from their backing and stuck onto the nail. Prices start at just $6.94 for a complete set.
To browse the entire range of polishes and beauty supplies from the nails supplies online experts, eNail Supply, please visit http://enailsupply.com/
About Us:
eNail Supply supplies professional and salon-quality beauty products for the hands, feet and nails. It stocks a huge rand of brands including Essie Nail Polish, CND Shellac, Artistic Color Gloss and Gelish for shipping worldwide. eNail Supply supplies to licensed nail technician, aesthetician, depilatory professionals and beauty consultants as well as regular shoppers. It offers worldwide delivery and complimentary help and advice from a team of qualified technicians.