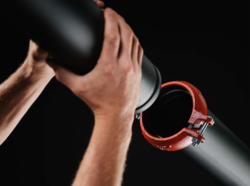 Easton, Pa (PRWEB) November 07, 2012
Victaulic, a leading global producer of mechanical pipe joining and fire protection systems, introduces the new FireLock EZ® Style 009N Rigid Coupling. The improved design is easier to install than the Style 009H Rigid Coupling, reducing installation efforts by 50 percent and improving impact wrench battery efficiency by 100 percent.
"We are pleased to introduce the new Style 009N Rigid Coupling, with its optimized housing design that reduces installation effort," said Charles Wilk, product development manager, Victaulic Couplings and Fittings. "Victaulic listened to contractors looking for a fast, easy to install coupling that provides a direct wrench feel while improving battery life. The FireLock EZ Style 009N Rigid Coupling has no loose parts to drop or cause injury, ships to the jobsite ready to install and promises fast installation and no rework, saving the contractor both time and money."
The Style 009N is part of Victaulic's installation-ready product line and platform and has all the same time-saving benefits of the Style 009H, plus more. The Style 009N Rigid Coupling's improved design includes:

Optimized housing design to reduce installation effort
Nylon-patched fastener design so there is no need to disassemble housings for installation
Full vacuum service for both wet and dry applications
Metal-to-metal bolt pad connection providing visual confirmation of proper installation
Center lip gasket assures proper pipe positioning at center of joint
As Style 009H inventory reduces, the Style 009N Rigid Coupling will become the standard Victaulic fire protection solution in pipe sizes 1 ¼ - 4 inches/32-100mm up to 365 psi/25 bar.
The FireLock EZ Style 009N Rigid Coupling is currently only available in North America.
About Victaulic
Founded in 1925, Victaulic is the world's leading producer of mechanical pipe joining systems. Headquartered in Easton, Pa., Victaulic has manufacturing and distribution facilities worldwide and employs more than 3,500 people. The company develops products and services for some of the world's most demanding markets, including oil, gas and chemical; mining; power generation; water and wastewater treatment; and military and marine systems; as well as commercial building and fire protection applications. Keep in touch with Victaulic on Facebook, Twitter or LinkedIn.