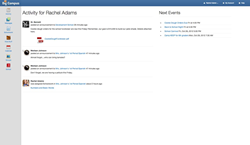 The Parent Portal will enhance school-home communication and encourage engagement between teachers, parents, and students—transforming My Big Campus from a safe social collaboration tool to a complete classroom LMS.
Bakersfield, CA (PRWEB) November 07, 2012
Lightspeed Systems, creator of My Big Campus, is pleased to announce the Parent Portal is now live and ready for use. The Parent Portal and associated parent accounts will enhance school-home communication and encourage real-time engagement between teachers, parents, and students—transforming My Big Campus from a safe social collaboration tool to a complete classroom Learning Management System (LMS).
Lightspeed Systems is committed to helping educators establish active parent participation in the classroom. In addition to the ability to view schoolwork, assignments, announcements, and events, parents can also communicate directly with teachers—resulting in increased engagement and increased achievement.
Part learning management system, part social network, and part content management system, My Big Campus is the only solution that safely brings together all the tools students and educators need and makes them easy to access and easy to share—so it's easy and fun to learn. Now with the addition of parent accounts, that circle of home-school collaboration and communication will be complete.
With the Parent Portal, parents can see:
•Activity: Review announcements from their students' groups (classes, clubs, teams) and school, and new schoolwork assignments.
•Messages: Send/receive messages between parent, their student, and school staff.
•Schoolwork: View assignment descriptions and completed submissions, exchange comments with teachers, access reports.
•Kids Stuff: View and download content uploaded by their student.
•Calendar: See all district, school, group, schoolwork and personal events for their student.
•Groups: Monitor group announcements, pages, and resources. Group chat and discussions are not shown in the Parent Portal.
•School: Find school announcements, resources, and a staff directory.
Parents can also comment on Schoolwork, download files, and send conversations to their students, teachers, and school staff. And all parent access is given through data extracted from school's Student Information System (SIS) integration with My Big Campus—ensuring and maintaining student safety.
My Big Campus is the only collaborative LMS built specifically for education, with a focus on network and student safety. With just this one tool, educators can provide a safe community for student collaboration, effectively communicate with parents, meet core curriculum standards, and create dynamic learning environments.
The all new Parent Portal can be seen at parents.mybigcampus.com. To keep students safe, parent accounts are created through SIS import, therefore parents should contact their child's teacher or school to get started on My Big Campus.
###
About Lightspeed Systems
To us, education isn't an industry; it's a passion. Our solutions make it safe, secure, and easy for IT staff to give users access to resources that make learning engaging, collaborative—and real.
Since 1999, Lightspeed Systems has been partnering with, listening to, and supporting IT staff in schools—making their day-to-day tasks manageable and their educational goals reachable. Today our solutions are used in more than 3,000 school districts for more than 10 million students. Our products have won numerous awards and our company has been recognized on the Inc. 5,000 list as one of the fastest-growing private companies for the last five years. But more than what we've done, we're interested in what we can do, together: transform education. For more information, call 661-716-7600, or visit http://www.lightspeedsystems.com.
MEDIA CONTACTS:
Toni Frantz
toni(at)lightspeedsystems(dot)com
Lightspeed Systems
661-706-5517