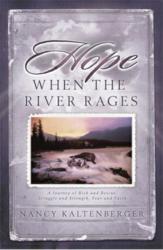 (PRWEB) November 06, 2012
In concern for the victims, families and loved ones affected by hurricanes, earthquakes, fires and personal catastrophes, LifeSong Publishers is giving away a book entitled "Hope When the River Rages- a Journey of Risk and Rescue, Struggle and Strength, Fear and Faith" by Nancy Kaltenberger.
Trials can really unnerve us! Yet they can also be the very thing that make us strong and able to survive the most difficult circumstances. Have you ever found yourself asking any one of the following questions?

Why did God let this happen?
Where do I turn for hope when everything seems hopeless?
Will this ever be over?
Is there a God and does he really love me?
Answers to these questions are important to recovery after a devastating experience. "Hope When the River Rages" is an easy read and can be a great help as you search for answers.
In order to receive this book, simply order the book at http://www.LifeSongPublishers.com and use the coupon code FREEBOOK for the 100% discount. You will only need to pay a small S/H charge. Order soon as this offer is available to the first 1,500 people who respond and only one book per family please.
Laurie Donahue says. "It is our pleasure to provide a free copy of "Hope When the River Rages" to whomever might benefit from reading this book."
LifeSong Publishers is a producer of books of growth and encouragement for your whole family with picture books, Bible Studies and the leading kid's baptism preparation workbook. Contact LifeSong Publishers at Laurie(at)LifesongPublishers(dot)com or 1-805-504-3916.