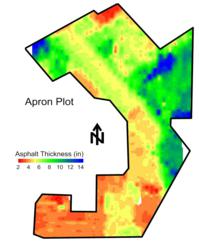 Arlington, MA (PRWEB) November 07, 2012
The 21st Annual Falling-Weight Deflectometer (FWD) Users Group Meeting was held in Sacramento, California last month. The meeting, held on October 15th and 16th, included presentations on "FWD usage, data analysis, equipment calibration and maintenance, and personnel training issues." Falling-Weight Deflectometer testing is a nondestructive method used to determine the strength of pavements. It is an important tool in determining the carrying capacity and lifespan of pavements such as highways and airport runways. However, accurate FWD analysis requires pavement structure and thickness information. Ground penetrating radar (GPR) is often used as a complement to FWD testing to quickly and accurately supply this pavement structure information. Therefore, presentations describing the integration of FWD and GPR data were also included at the meeting.
Under this topic, Infrasense's president, Dr. Ken Maser presented the recently completed GPR phase of a project to provide pavement condition and capacity data for 23 South Carolina airports. Teaming with Applied Research Associates (ARA), the project provides the South Carolina Aeronautics Commission (SCAC) with information to update their statewide Pavement Maintenance and Management System. Testing included falling weight deflectometer (FWD) measurements, GPR scanning, and coring. The specific objectives of the GPR testing were to determine pavement layer structure and to identify deeper subsurface features, including voids and foreign objects such as abandoned fuel tanks and tree stumps in the embankments.
The presentation covered the data collection scheme, in which Infrasense conducted multiple GPR scans of all major pavement elements, including runways, taxiways, and aprons. The GPR system used in this work combined a 1 GHz horn antenna to characterize pavement layer structure, and a 400 MHz antenna to identify utilities, voids, foreign objects, and areas of high moisture to a depth of 7 feet. The equipment set up allowed speeds of 15-30 mph during data collection and a differential GPS unit provided detailed tracking of the survey paths. The efficiency of this setup permitted the survey of all airport elements at an average rate of 2 airports per day. Infrasense analyzed the data to identify thickness of the bound and unbound pavement layers, presenting the results to ARA in tabular and graphical form. ARA used these results with their FWD data to backcalculate layer moduli and ultimately to determine the pavement classification number (PCN) of each airfield element. The deeper subsurface features were identified and mapped using geo-referenced data files.
Although GPR has seen a number of applications in highway engineering, one of the most common applications is the determination of pavement layer thickness. A recent survey found that at least 28 state highway agencies utilize GPR, either for individual projects or in network-level pavement management. GPR can provide quick, accurate pavement thickness results, and by integrating GPR data with FWD testing, pavement structural properties may be determined more efficiently.
About Infrasense, Inc.
Since 1987, Infrasense, Inc. has applied advanced detection technologies to the most difficult challenges in subsurface scanning. Using advanced tools and processing techniques, Infrasense engineers are able to nondestructively scan large areas quickly, and to extract critical subsurface information from a diverse range of structures. The firm has conducted research to advance the field of subsurface detection, while also continuing to provide valuable information to clients across the country. For more information visit http://www.infrasense.com.