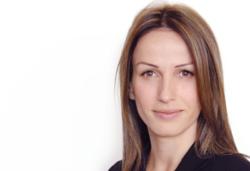 I take great pride in being a part of an organisation which values client service, credentials and experience above all else.
Limassol, Cyprus (PRWEB UK) 8 November 2012
Harneys partner and head of the firm's Cyprus office Emily Yiolitis has been elected to the Board of Directors of the International Network of Boutique Law Firms (INBLF).
INBLF Founder and Chairman of the Board Steven Spielvogel commented: "I have known Emily for many years. I was delighted when she joined the INBLF, and I am even more delighted today that she has become a member of the INBLF Board of Directors. As the first Board member from Cyprus, her election serves as a reflection both of the INBLF's growing international profile and of the increasing prominence of Cyprus in international business."
Yiolitis commented: "The INBLF is a valuable network both for members and for clients and I look forward to contributing to its continued development. I take great pride in being a part of an organisation which values client service, credentials and experience above all else."
Founded in 2004, the INBLF embraces hundreds of boutique (single-focus) law firms in more than 30 commercial centers throughout the United States and Canada. Each INBLF law firm and attorney has been meticulously screened to guarantee that every member attorney adheres to the highest professional standards and has achieved local and regional preeminence in his or her practice area. The INBLF has also expanded overseas to now include international strategic partners, so that INBLF members can draw on legal resources around the world to serve their clients. In this regard, it has recruited some of the most prestigious full-service law firms outside North America for association with the organization. The INBLF is now present in approximately 40 nations throughout Central and South America, Europe, Asia, Australia, and Africa. For more information visit http://www.inblf.com.
Emily Yiolitis is the managing partner, a founding partner of the Cypriot office, and global head of the firm's Tax and Regulatory Department. Emily's work includes international corporate and tax structuring and her clients include professional intermediaries around the globe as well as high net worth individuals. Emily is Chairwoman of STEP Cyprus; the Cyprus representative of the European Tax Intelligence Group (ETIG) and a regular speaker at international conferences. Her work is frequently published in Cyprus and international trust, tax and legal periodicals.
About Harneys
Harneys is an international law firm practicing the laws of the British Virgin Islands, Cayman Islands, Cyprus and Anguilla. Founded in 1960 the firm was the first legal practice in the BVI and remains the jurisdiction's largest law firm. In the mid-2000s the firm adopted a programme of strategic expansion which led to the addition of its Cayman and Cyprus offering as well as an emerging markets focus. Harneys currently has 6 offices around the globe and permanent representatives in a further 3 regions.
Harneys' associated corporate services and private wealth business, Harneys Services, provides corporate and fiduciary services in the BVI, Cayman Islands and New Zealand.