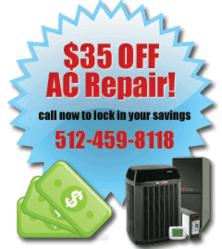 We value each of our customers and ensure that each customer gets complete satisfaction through our air conditioning & heating services.
Austin, TX (PRWEB) November 08, 2012
The winter season is just around the corner, and now is a great time to have that furnace serviced before the temperatures begin to drop. A well-serviced furnace will run efficiently, keeping the home cozy and warm.
Autumn Heating & Cooling, a family owned and operated business located in Austin, can assist with all the winter heating service needs, including maintenance, heating repair, and emergencies. Reliable and qualified, Autumn Heating & Cooling promises prompt and friendly service whenever its is needed.
With an A+ rating from the Better Business Bureau, a Super Service Award from Angie's list, approval from the Austin Chamber of Commerce, trust that Autumn Heating & Cooling's NATE HVAC certified technicians can provide quality heating service each and every time. This Austin heating and air conditioning business stands out and prides itself on top quality work, professionalism, and first class customer service.
Whether it is a heating service checkup, a new furnace installed, a heating repair emergency, or have an air conditioning need later in the year, call Autumn Heating & Cooling to get the job done. They will rise above and beyond the call of duty to save the day.
Autumn Heating & Cooling offers free heating service calls in Austin, 24 hours a day. Customers never have to worry about excess charges or hidden fees. Service calls are free of further obligation, and all repair and maintenance charges are disclosed prior to acceptance of a work order. Be prepared this winter season and remember Autumn Heating & Cooling for all winter heating needs. Customers should have furnaces serviced prior to the start of the season or, in the unfortunate event that the furnace stops working mid-season, give them a call – 24 hours, 7 days a week – for fast, reliable, professional heating repair.
Heating repair in Austin is not all Autumn Heating & Cooling can do. This trusted Austin business offers air conditioning services and can install new energy efficient heating and a/c units from major manufacturers. Qualified customers can also enjoy the benefits of 0% financing for up to 36 months. Enjoy the convenience of monthly payments, an open line of credit, and special promotional offers.
About Autumn Heating & Cooling: A family owned and operated Austin business providing professional, quality heating and air conditioning service 24 hours a day, 7 days a week. With free service calls, affordable pricing, and comprehensive service, Autumn Heating & Cooling is an Austin area business that can be trusted.
See the Autumn Heating & Cooling Deal of the Month on LivingSocial.
Autumn Heating & Cooling
2001 Windy Terrace #D
Cedar Park, TX 78613
512-459-8118
service(at)keepingaustincool(dot)com