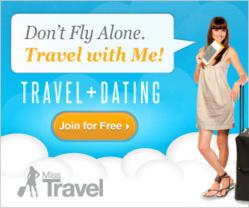 "My travel companion is usually my wife, so I prefer airports with amenities and features that help relieve the stresses associated with delays," says Wade. "Factors such as good shopping and fine dining help determine an airport's "stuck-ability" to us."
Dallas, TX (PRWEB) November 06, 2012
MissTravel.com releases the results of its survey on "America's Best Airports to Get Stuck In", today. Hurricane Sandy left millions of travelers stranded, cancelling nearly 20,000 flights in it's wake. While most travelers were stuck on the eastern seaboard, in airports such as JFK International and Newark Liberty, MissTravel.com's new survey shows that these are America's least favorite airports. The survey shows that there are certain airports Americans would rather be stuck in, revealing a top 10 list, including Dallas-Ft.Worth, Pittsburgh International and Austin-Bergstrom.
America's Best Airports to Get Stuck In:
1. Dallas/Ft Worth International Airport
2. Pittsburgh International Airport
3. Austin-Bergstrom International Airport
4. General Mitchell International Airport
5. Chicago O'Hare International
6. Orlando International Airport
7. Minneapolis-St. Paul International Airport/Wold-Chamberlain Airport
8. Detroit Metropolitan Wayne County Airport
9. Miami International Airport
10. Nashville International Airport
MissTravel.com is the only travel-dating website where single travelers are matched with generous travelers for a destination date. The website launched in April of this year and has quickly amassed over 150,000 members worldwide, inspiring over 60,000 trips to destinations all over the globe.
Brandon Wade, Founder & CEO of MissTravel.com is a frequent flyer, a Delta - Diamond Medallion Member with 888,576 miles, an American Airlines - Executive Platinum Elite Member with 99,756 miles, and an United Airlines - 1K Member with 756,773 miles. "In order to ease frustration, travelers need to be distracted and entertained while waiting," remarks Mr. Wade, an MIT Graduate. "I fly every other week and have been through my fair share of travel woes. The first thing I look for if my plans go sour, is a place to work, and a good meal, which surprisingly, is not easy to come by in every airport."
According to the survey, the least desirable airports to be stuck in include, Washington Dulles International, Atlanta's Hartfield-Jackson International and New York's JFK International. The survey measured desirability based on factors such as cleanliness, aesthetics, amenities, and selection of food and shopping.
"My travel companion is usually my wife, so I prefer airports with amenities and features that help relieve the stresses associated with delays," says Wade. "Factors such as good shopping and fine dining help determine an airport's "stuck-ability" to us."
For more information on the survey or to schedule an interview with MissTravel CEO and Founder, Brandon Wade, please contact Jennifer Gwynn at press(at)MissTravel.com or call +1 702 241 0100.
ABOUT MISSTRAVEL
MissTravel.com is the world's first and only travel dating website. MissTravel.com was founded by MIT alum and online dating king, Brandon Wade and joins an impressive brand family of successful niche dating websites with, SeekingArrangement.com, the world's #1 Sugar Daddy Dating Website; WhatsYourPrice.com, the only website where first dates are bought and sold; and SeekingMillionaire.com, the premier millionaire dating website. MissTravel.com boasts over 140,000 members worldwide, inspiring over 60,000 trips domestically and internationally.