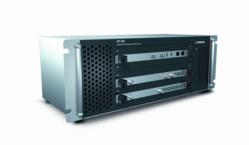 Montreal, Canada (PRWEB) November 07, 2012
Averna, an industry-leading developer of test solutions and services for communications and electronics device-makers worldwide, announces a new software release for the DP-360 DOCSIS Protocol Analyzer.
The DP-360 is the industry standard for functional DOCSIS and EuroDOCSIS network analysis, providing exceptional visibility into all layers of the network. Multiple system operators (MSOs), chipset manufacturers, product developers and certification bodies use the DP-360 to quickly find and correct trouble spots
New DP-360 Release Highlights:

Allows users to use two DP-360s to capture up to 8 bonded downstream and 4 bonded upstream channels and merge the captures together in the DOCSIS Analysis Software (DAS).
Added flexibility on the downstream channel configuration to enable a mix of European and North American channels.
Several added DAS features improve user experience, such as: Go To Frame number, Go To Timestamp function, and Go To first/last frame.
Added Service IDentifier (SID) filtering capabilities to include or exclude specific SIDs to reduce capture file size.
Enabled triggering functionality on Concatenation and Seg-Header packets.
Improved power detection in Demod Bypass mode that enables higher S-CDMA demodulation performance.
Pricing and Availability
This new version is available at no cost to customers with a valid DP-360 maintenance and support agreement. Please contact Averna Customer Support (support(at)averna(dot)com) for more details, including date of availability.
Click to Tweet: From @Avernatech: New software release for Averna DOCSIS Protocol Analyzer, added features and flexibility, contact support@averna.com.
About Averna
Averna is a premier manufacturing solution provider for communications and electronics device-makers worldwide, helping them deliver a better end-user customer experience. Key Averna clients in the communications, aerospace, defense, automotive, consumer electronics, and medical device industries use Proligent, RF Test Instruments, and other test solutions to accelerate product development, reduce manufacturing costs, achieve superior quality throughout the lifecycle, and solve critical supply-chain issues.
Averna has offices and sales partners around the world. Incorporated in 1999, Averna is a Best in Test award winner, an Ernst & Young Entrepreneur of the Year® recipient, and has been honored as one of the Deloitte Fast 500 fastest-growing technology companies in North America. http://www.averna.com
© Copyright 2012 Averna. All rights reserved. Information subject to change without notice.
Averna is a trademark of Averna Technologies Inc.